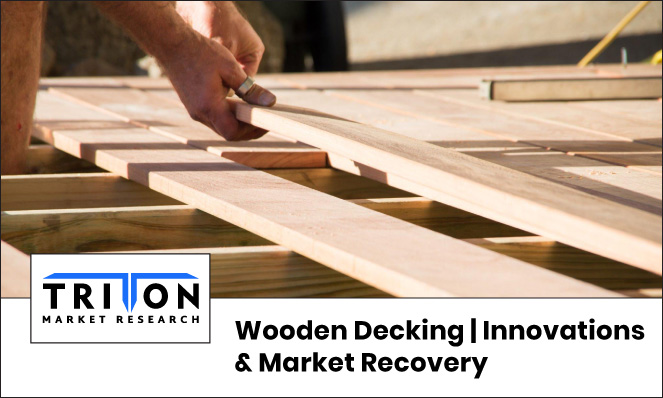 In recent years, the demand for wooden decking has increased for residential as well as commercial and industrial purposes. As per our analysis, the global wooden decking market is likely to develop with a CAGR of 4.82% during the forecast years from 2022 to 2028. Rapid urbanization, elevated demand for housing, and an increase in remodeling activities due to rising living standards, are some of the key factors driving the market's growth.
Robust Construction Sector – Key Growth Influencer
Wood decking is widely employed in the residential sector for newly constructed dwellings and also for maintenance & renovation purposes. Americans spend over $400 billion on home renovations and repairs every year, as per the Harvard Joint Center for Housing Studies. The strong demand and the availability of plentiful resources in the United States have aided the growth of the North America wooden decking market, which accounted for the highest share globally in 2021.
Moreover, the rise in commercial and infrastructural projects around the globe, such as the development of hospitals, schools, government facilities, airports, seaports, terminals, etc., has also boosted the demand for wooden decking. In addition, governments across the world are implementing supportive policies and plans for the development of affordable homes. As a result of the rising housing & infrastructure demand, coupled with the need for repairs & renovation, massive investments are being made in the construction industry. This is anticipated to strengthen the wooden decking market.
Wide-scale Adoption of Acetylated Wood
In recent years, significant advancements have been made in the field of wood modification, prompted by rising environmental concerns and enhanced demand for high-quality wood products. Acetylation is a chemical process used to provide specialized properties to wood, such enhanced durability and dimensional stability.
Hence, several companies are increasing their acetylated wood production. For instance, Eastman Chemical, one of the leading cellulose acetate makers in the world, acetylates wood at its chemical complex in Kingsport, Tennessee (the United States). Furthermore, Accsys Technologies acetylates wood in Arnhem, Gelderland (the Netherlands), and also licenses its acetylation technology to third parties.
In Triton Market Research's report, acetylated wood is studied under the other product types segment, and is expected to grow at a CAGR of 4.06% during the forecast period.
Countering the Threat of Substitutes
Traditionally, wood has been the most common decking material. However, wood substitutes like metal, PVC, rubber paver tiles, concrete, and other composites, are also being increasingly preferred. Composite decking comparatively requires less maintenance and is designed to be more durable. Besides, wood is a more expensive decking material. The growing demand for the aforementioned alternatives has opened up new opportunities for their manufacturers, while also lowering buyers' switching costs.
This, however, is a major hurdle in the path of market growth. To regain users' attention, wooden deck manufacturers can provide deck installation and maintenance services, which include chemical treatment & periodic maintenance of wood planks, panels, pillars, and decorative components.
Market players can also leverage the advantage wood provides over composite decking materials during summer, as composites are less resistant to heat, given their density. Custom solutions and tech integration are also some innovative measures to capture customer interest. In October 2021, TimberTech partnered with the premier online landscape design platform, Yardzen, to simplify the process for homeowners looking to design custom outdoor decks. Incorporating digitally connected processes and diversifying supply sources will thus provide companies with lucrative growth avenues.
Preference for Green Constructions
With the growing focus on sustainability, green construction initiatives are increasing all over the world. These buildings are constructed with environment-friendly materials, at zero-emission construction sites, and are energy-efficient. In 2021, India emerged as one of the world's leading nations to have green and sustainable buildings and projects, ranking third on the United States' Green Building Council's annual list of the top 10 countries outside of the US for Leadership in Energy and Environmental Design.
France is also promoting the use of eco-friendly components in building construction to limit emissions and ensure sustainability. Whereas, Argentina has initiated its green building movement with more than 300 projects already being registered. Also, Lusail City, is a futuristic sustainable city being planned in Qatar, as part of a $45 billion project. The rising demand for green buildings, coupled with increasing construction activity, is expected to drive the demand for wooden decks. This, in turn, will bolster the development of the overall wooden decking market.


FAQs:
Q 1) What are the revenue estimates for the global market?
The global wooden decking market was valued at $20161.16 million in 2021 and is expected to reach a revenue of $27936.26 million by 2028.
Q 2) Which are the segments studied in the market report?
Product Type, Application, and End-user are the main segments studied in the wooden decking market report.