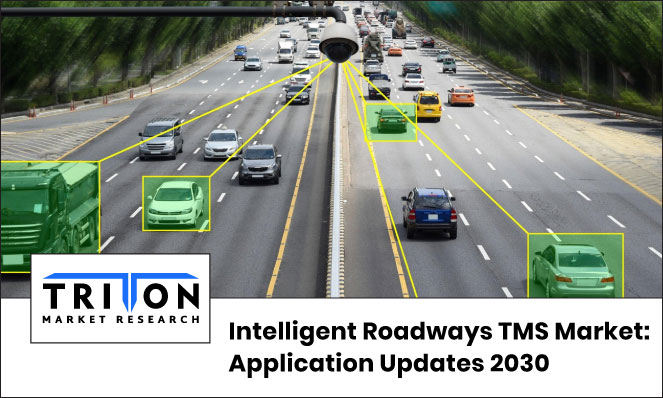 Intelligent roadways transportation management systems refer to an advanced technology that offers innovative solutions pertaining to transport management and enables end-users to make better, safer, and 'smarter' use of road transport networks. According to Triton Market Research, the Global Intelligent Roadways Transportation Management Systems Market is likely to develop with a CAGR of 10.32% over the forecast years from 2023-2030. IRTM systems are incorporated with sensors, navigation systems, vehicle probes, video surveillance devices, etc., that offer real-time data for analysis, which is then communicated to users.
Statistics from the OECD suggest that, by 2050, global passenger transport and freight transport will increase by 2.3 fold and 2.6 fold, respectively, compared to their values in 2015. Also, roads are among the most preferred transport modes, accounting for most motorized passenger travel and domestic freight transit. IRTMS help enhance the operational efficiency of public transit systems and also boost overall passenger safety. Moreover, they optimize the logistics capabilities and help manage numerous business needs of e-commerce service providers. These factors have contributed to the increased demand for intelligent roadways TMS.
Transportation Management Systems – A Quick Run-down on the Parent Market
Transportation management systems streamline the process of shipping. This makes managing and optimizing operations easier for businesses, whether the transit mode they use is sea, land, or air. TMS play a key role in supply chain management, impacting every part of the process—from planning & procurement to logistics & lifecycle management. Rapid industrialization and manufacturing growth are key factors that have increased their adoption worldwide.
The burgeoning e-commerce sector, due to the growing trend of online shopping, is further contributing to the escalating demand for these systems to facilitate shipping operations. In today's world, where countries compete on a global level, it is crucial for them to have developed transport, logistics, and trade-related infrastructures. A TMS provides visibility into everyday operations, trade compliance data & requirements, and ensures the timely delivery of goods. The improving bilateral economic relations between several countries worldwide are creating growth opportunities for operating players to expand their consumer base.
IRTMS Market | Expanding Applications
Fleet management solutions leverage telematics and IoT technologies using navigational positioning. Smart technologies can reduce the operational costs of managing fleet, increase routing efficiency, and also enhance driver security. MercuryFleet by MercuryGate International Inc facilitates instant communication with drivers, and also helps track equipment in real time via control tower visibility. The fleet management market is driven by the growing demand for logistics and freight transportation. Fleet management accounted for a revenue share of $9819.39 million in the application segment in 2022.
Whereas, automated ticketing is expected to grow at a CAGR of 11.39% in the application segment over the forecasted period. Automated ticketing systems for public transport, such as buses, metros, and trains, rely on the use of smart cards and IoT technology. These systems enable hassle-free payments, save time, and eliminate other barriers associated with traditional ticketing systems. Also, recent projects in India and China for the development of IRTMS-based unified automated ticketing systems have enhanced the scope of this application. Such developments have also bolstered the Asia-Pacific intelligent roadways transportation management systems market, which is expected to grow at an 11.02% CAGR during the forecast period.
Smart Cities: Market's Future Agenda
According to the World Bank, nearly 4.4 billion people worldwide live in cities. And by 2050, the global urban population is expected to reach more than double its current size. The concept of smart cities is gaining impetus, which will bring together technology and infrastructure. It will transform cities through infrastructure development and improve people's quality of life by efficient public service delivery. Smart transport systems and smart city traffic management are revolutionizing the approach towards mobility and emergency response, while reducing congestion issues.
Global hubs like New York City have embraced this development. The implementation of autonomous goods transportation systems across the country has drastically improved supply chain efficiency and also reduced the need for long-haul drivers to balance tight timelines. Also, smart infrastructure development for transportation management represents growth opportunities for IRTMS providers, as various transportation agencies and car rental companies in smart cities will use these solutions to reduce traffic congestion and save time. Thus, the rising concept of smart cities is anticipated to foster the growth of the intelligent roadways transportation management systems market.


FAQs:
Q 1) What are the revenue estimates for the IRTMS market?
The IRTMS market was valued at $34875.99 million in 2022, and is anticipated to reach $74615.39 million by 2030.
Q 2) Which are the different applications covered in the market report?
Passenger Information Management, Automated Ticketing, Automated Traffic Control, Fleet Management, Automated Parking Assistance, and Other Applications.