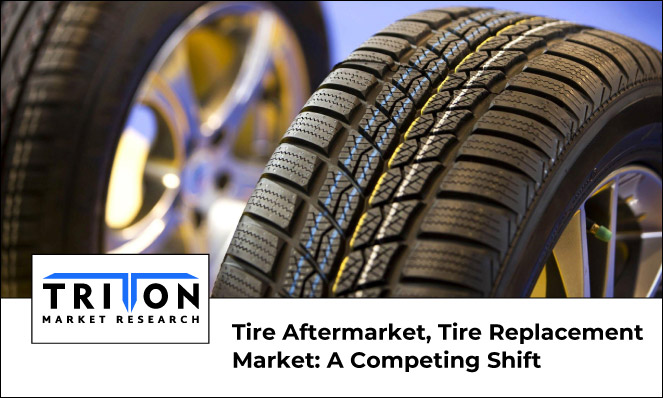 A flat tire is among the several inconveniences vehicle owners aim to avoid. Whether due to valve system damage or blowout due to over-inflation, the absence of a proper tire can severely damage the wheel and trigger tire replacement. This drawback has instigated several tire producers to invest in R&D to develop high-performance, fuel-efficient tires, opening avenues for the global tire aftermarket, tire replacement market.
Additionally, integrating systems like anti-lock braking systems, electronic power control, and tire pressure monitoring systems has upheaved the demand for tire aftermarket services. Our estimates have gathered that the global market is set to gain revenue worth $93.38 billion by 2028, rising at a CAGR of 4.43% during the forecast years 2022-2028.
Developments in Aftermarket Services
Wait, did you say airless tires? Instead of air, tires are now integrated with a network of spokes that keeps the wheels rigid while giving them a see-through appearance. Each year, around 20% of tires are trashed due to puncture or uneven wear, stimulating manufacturers like Michelin to launch UPTIS airless automobile tire design that results in lower raw material and waste consumption. In this regard, the company has teamed up with GM to introduce UPTIS by 2024.

Besides, the tires' ability to bear high weight and absorb shocks is anticipated to support the growth of the 16-18-inch rim size category. Numerous players have opted for this size since it offers additional grip, braking performance, and ride comfort, a major driving force for the tire aftermarket, tire replacement market.

The Green Initiative: With the average crude oil price rising from $39.68 in 2020 to $97.64 in 2022 and the rising carbon footprint, the demand for energy-efficient tires has boosted the tire replacement market. Besides, advances in tire energy efficiency can decrease global fuel consumption by around 5% in passenger vehicles, per the International Council on Clean Transportation. This has led low rolling resistance tires to gain immense traction among consumers to lower their total carbon footprint.

Considering this trend, in January 2023, Goodyear revealed a demonstration tire made of 90% sustainable materials, including carbon black and soybean oil. While it stated the need for further collaboration to bring 90% sustainable tires into the market, the company plans to sell them with 70% sustainable material in 2023. Our analysis indicates that the radial tire type captures the highest share in the market as it has lower rolling resistance, achieving greater fuel efficiency.

Labeling Culture: Labeling has emerged as a viable solution to differentiate products from packaging to tires. However, governments are striving to implement standards to eliminate redundant performance classes from the scale. For instance, the label design will be changed in the US with snow and ice grip symbols. The European Commission also introduced Euro 7 standards for particle emission from tires and brakes to ensure cleaner vehicular movement and air quality across the region.

Other than this, the Indian government mandated new standards in 2021 to enhance fuel efficiency and braking impact on wet roads. Earlier in 2022, Michelin became the first tire brand to receive a 4-star rating by the Bureau of Energy Efficiency, India, under the new star labeling program. Such steps by government bodies to promote sustainability are set to be a growth enabler for the Asia-Pacific tire aftermarket, tire replacement market.
Electric Vehicle: Revving Up the Ride
Over the course of a decade, electric vehicle sales soared to reach around 7 million units in 2021. Fueled by the falling costs of lithium-ion batteries, the rising EV sales have revolutionized the automotive industry and the tire sector. Furthermore, since the additional weight of batteries in EVs lead to enhanced stiffness, the demand for cutting-edge tires has accelerated. As a result, companies like Bridgestone have unveiled ENLITEN Technology that decreases tire rolling resistance by 30% and weight by 20% to expand EV driving range and reduce environmental impact. Therefore, the EV industry is attractive for expanding the tire aftermarket, tire replacement market.


FAQs:
Q1) What are the types of tires in the aftermarket, tire replacement market?
There are two major types of tires, namely, radial and bias, in the tire aftermarket, tire replacement market.
Q2) Which region will witness the fastest growth during the forecast period?
Asia-Pacific tire aftermarket, tire replacement is anticipated to witness the fastest growth, attaining a CAGR of 5.09% during the forecast period 2022-2028.