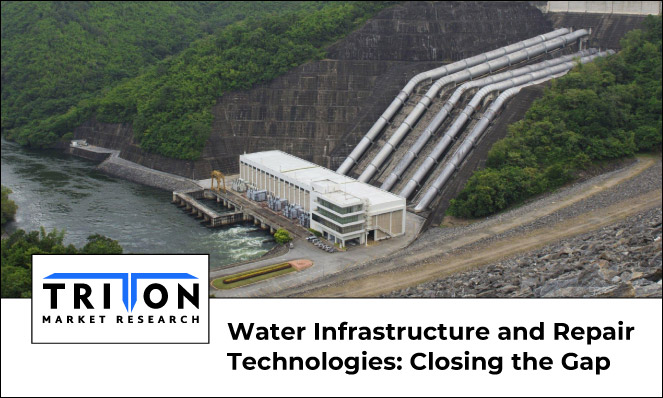 As per United Nations Environment Programme, more than 3 billion people globally are at risk of disease due to hazardous water quality in rivers, lakes, and groundwater. Moreover, the water availability in a 5th of the world's river basins is experiencing significant fluctuations, exacerbating the water crisis. Therefore, water infrastructure and repair technologies play a crucial role in the proper functioning of water delivery systems, resource management, flood protection, and other critical applications.
The global water infrastructure and repair technology market is expected to gain $165096.73 million by 2030, growing at a CAGR of 6.49% during the forecast period 2023-2030. The global surge in population and the consequent influx in water demand have propelled significant growth in the market.
According to a recent study by the United Nations Environment Programme, approximately 80% of the world's wastewater remains untreated, comprising various contaminants such as organic human waste and hazardous industrial discharges.
The need to ensure efficient and reliable operation of water infrastructure systems has led manufacturers to develop advanced technological devices. WIRT solutions minimize water loss and contamination, and provide safe and reliable access to water for communities, industries, and businesses, ensuring the sustainability of water resources.
The category segment of the market includes assessment, replacement, rehabilitation, and spot repair. In 2022, the replacement category dominated the market with a revenue of $38898.63 million.
However, high operating expenses associated with the equipment is the key challenge to the operating players. Maintenance costs, plant monitoring costs, energy costs, and pollution charges can significantly influence the operational expense. In particular, the high operational cost of a water treatment facility can contribute significantly to the annual cost.
For wastewater systems, operation, maintenance, and monitoring of a wastewater treatment plant can amount up to 50% of the annual costs. To give an example, Veolia Group's increasing debt levels have resulted in the company having to allocate a significant portion of its cash flow from operations toward the payment of principal and interest on its loans, which reduces the availability of funds for other areas of the business such as working capital, capital expenditures, and acquisitions.
WIRT Innovation in Water and Energy Sectors
The global population is rapidly increasing, leading to widespread urbanization and a surge in demand for energy fuels, including petrol, natural gas, and kerosene. As a result, refineries are expected to increase their output to meet this growing demand. Incorporating water treatment in refineries has the prime objective of reducing utility costs and making water available for captive electricity production. For instance, The Port Arthur Refinery in Texas, one of the largest refineries in the US, implemented a water treatment program that treats wastewater using advanced technologies such as reverse osmosis.
Manufacturers in North America are exerting themselves to match the burgeoning requirement for municipal and industrial water infrastructure, as well as repair technology applications. Also, governments in the region are initiating steps to upgrade the water infrastructure system by introducing new incentives. The Canadian Government has initiated the Clean Water and Wastewater Fund (CWWF) which provides short-term funding of $2 billion. The program initiatives are to improve water treatment and water distribution infrastructure systems.
As per our estimates, the North America water infrastructure and repair technology market is full of untapped opportunities waiting to be explored and is expected to grow at a CAGR of 6.82% during the forecast period of 2023-2030.
From Scarcity to Sustainability: The Promising Future of Water Industry
With groundwater being exploited at an alarming rate, freshwater depletion has become a critical issue. The impact is witnessed across sectors, including agriculture, which is heavily reliant on water resources. The severity of the situation necessitates prompt action to promote water infrastructure and repair technologies (WIRT) that can help conserve, manage, and recycle water resources.
Few Notable Examples:
Coca-Cola, the global beverage company, uses advanced water treatment systems in its bottling plants to recycle and reuse wastewater, reducing its dependence on freshwater sources.
Intel Technology Company has invested in a water reuse system in its manufacturing plants, which treats and recycles wastewater for use in cooling towers and other processes.
Levi Strauss & Co, the global apparel company has implemented a water recycling program in the textile manufacturing process, which treats and recycles wastewater for reuse in textile dyeing and finishing processes.


FAQs:
1. What major hurdle does the analyzed market encounter?
The high operating costs are affecting the growth of the market for water infrastructure and repair technology.
2. What is the estimated value of the Global Water Infrastructure Repair Market?
According to Triton Market Research's report, the water infrastructure and repair technology industry, with a valuation of $99284.73 million in 2022, is projected to expand significantly and reach an estimated market size of $165096.73 million by 2030.