Cellulite Treatment Market: Advanced Procedures Supplement Growth
Consumer Goods and Service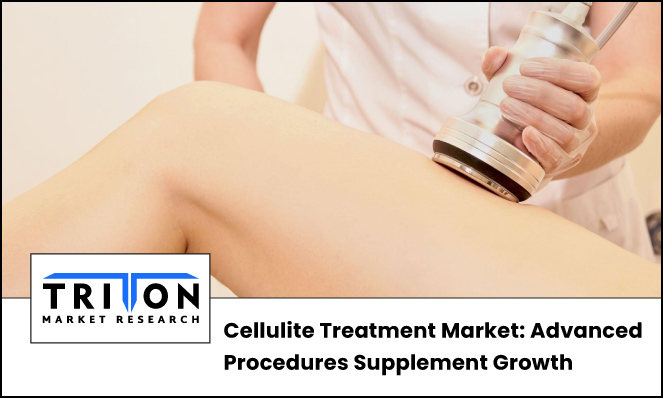 In recent years, the demand for cellulite treatments has skyrocketed, and one of the key driving factors is the alarming rise in obesity rates globally. According to WHO, obesity has nearly tripled since 1975, with over 650 million adults classified as obese. As obesity rates continue to climb, individuals are seeking effective solutions to tackle the unwanted dimples and uneven skin texture caused by cellulite. This further widens the scope of the global cellulite treatment market, which as per Triton's estimates, is set to grow at a CAGR of 9.48% during the forecast period 2023-2030.
Another notable trend is the rise in medical tourism, which has influenced the demand for affordable and advanced cellulite reduction procedures across various destinations. By leveraging medical tourism, players are able to tap into distinct clientele by offering competitive costs, advanced therapies, and skilled professionals.
In this blog, we explore the widely preferred cellulite treatments, along with the initiatives by market contenders.
Combating Cellulite: Revolutionary Treatments Facilitate Reduction
Cellulite is caused by various issues, including hormones, lymphatic drainage, medical conditions, pregnancy, and aging. Although completely removing cellulite might not be possible, several targeted methods and lifestyle changes may help reduce its appearance. Some of the key procedure types include:
Non-invasive procedure type captures the highest share of the cellulite treatment market. Factors like a short hospital stay, quick recovery time, painless procedure, and lower cost significantly elevate the preference for non-invasive therapies. Some widely opted non-invasive methods include radiofrequency, suction massage, cryolipolysis, and high-frequency focused ultrasound. For instance, cryolipolysis freezes and eliminates fat cells, which the body later removes naturally. Whereas treatments like radiofrequency and ultrasound heat skin and stimulate collagen production, which reduces cellulite.

Our analysis shows North America dominated the market with revenue worth $811.68 million in 2022. The rising demand for advanced procedures, disposable income, and technological innovation primarily drives the treatment scope in North America. As per industry sources, in 2020, about 357,938 non-invasive procedures were performed in the US. This further led to various initiatives by key players. For instance, in 2021, Soliton launched RESONIC, a rapid acoustic pulse device, to non-invasively improve cellulite appearance. These factors thus boost the North America cellulite treatment market, directed by the US.


Minimally invasive procedures are gaining immense traction, expected to witness the fastest growth at a CAGR of 9.56% during the forecast period 2023-2030. As the name suggests, this treatment option limits the size of incisions, significantly reducing wound healing time and associated pain. In this regard, subcision is a minimally invasive remedy using a tiny blade to cut the connective tissue holding fat. Further, laser therapy includes inserting tiny laser fibers beneath the skin.

The growing focus on streamlined, cost-effective procedures has supplemented the category's growth, prompting various strategic launches in recent years. Key examples include:



- In May 2022, Revelle Aesthetics unveiled Aveli, a minimally invasive device to temporarily reduce cellulite appearance on the buttocks and thigh in a single session.




- AirSulpt Technologies Inc, in August 2022, introduced AirSculpt Smooth, which facilitates the complete removal of stubborn cellulite dimples.



Topical procedures such as vacuum suction have gained significant prominence, mainly to increase blood flow and lower fat buildup. This treatment method includes using various creams containing ingredients such as caffeine, theophylline, and others. Besides this, some creams include minerals and vitamins to treat soft cellulite type. Presently, soft cellulite captures the majority share in the cellulite type segment. The growing demand for topical therapies due to ease of application and availability of a range of products drives the category's growth.
Cosmetic Appearance: An Expanding Facet
While medical tourism and obesity are key driving aspects, beauty consciousness also widens the scope of the cellulite treatment market. With the rise of social media, consumer focus on their appearance has soared over the past decade. This has soared the number of cosmetic procedures, including cellulite reduction treatments. For instance, in Japan, approximately 174,5621 cosmetic therapies were performed in 2021. The rising medical tourism for aesthetic treatments across India, China, Japan, and South Korea, contributes heavily to the studied market's expansion.
Additionally, given the rise in beauty consciousness, several beauty clinics are capitalizing on innovative solutions to boost client satisfaction and revenue. For example, Cynosure Inc's TempSure RF platform delivers monopolar radiofrequency energy via unique massage heads to reduce cellulite appearance. Hence, focus on aesthetic appearance and technological advancements creates novel opportunities for the cellulite treatment market.


FAQs:
Q1) Which are the major types in the cellulite treatment market?
Hard, soft, and edematous are major types in the cellulite treatment market.
Q2) What is the size of the cellulite treatment market?
In 2022, the cellulite treatment market garnered $2225.93 million. It is expected to attain revenue worth $4568.36 million by 2030.