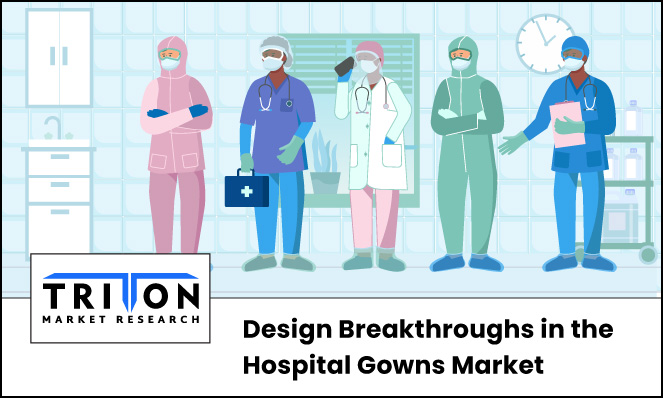 The COVID-19 pandemic, coupled with disease outbreaks and medical catastrophes, has exponentially augmented the potential of healthcare facilities to function as fomites for infectious diseases. Inadequate attention to infection prevention and control (IPC) can seriously affect patients, healthcare workers, and visitors. According to the World Health Organization (WHO), implementing cost-effective hygiene practices can prevent up to 70% of these infections. As a result, the hospital gowns market is expected to witness growth worldwide. These medical devices provide optimal protection to patients and healthcare professionals.
Globally, the market for hospital gowns is expected to gain $10805.79 million by 2030, at a CAGR of 11.83% during the forecast period 2023-2030. Primary factors contributing to this growth are worldwide surge in healthcare-related infections and governmental guidelines to enhance patient safety and hygiene.
Based on type, surgical gowns, non-surgical gowns, and patient gowns are available in the market. Among all, the surgical gowns category dominated the type segment in 2022 with a revenue of $2377.57 million. This is primarily because they protect medical professionals from pathogens, fluids, and foreign objects during surgical procedures. As a Class II medical device, these gowns are regulated by the FDA and require a 510(k) premarket notification.
Regional Status
With the growing number of healthcare facilities and surgical procedures in North America, the demand for hospital gowns is anticipated to witness an upward trend. For instance, as per the American College of Surgeons, an estimated 15 million Americans undergo diverse surgical interventions annually.
The region also observed the highest frequency of hospital-acquired infections in 2022, leading to a significant rise in demand for hospital gowns. Among the most prevalent infections that patients contract within hospital settings are urinary tract infections (UTIs), surgical site infections (SSIs), bloodstream infections, pneumonia, and clostridium difficile (C. diff) infections. As a result, the North America hospital gowns market will experience growth with a CAGR of 11.23% from 2023 to 2030.
Disposable Gowns - Key to Market Advancement
Recently, hospital gown design and materials have undergone significant advancements to improve user comfort and minimize infection transmission risks. To illustrate, PurThread Technologies' AAMI Level 2 isolation gown with silver ion technology features a silver ion antimicrobial agent that is integrated into the fabric, ensuring an uninterrupted protection against bacteria.
Due to the various advancements and developments made in producing comfortable and safe hospital gowns, the usability of hospital gowns have also increased. Both, disposable hospital gowns, which are designed for one-time use, and reusable gowns, which can be washed and sterilized for repeated use, are available in the market.
In 2022, the disposable gowns category dominated the market with a revenue of $3172.90 million. They offer convenience and cost-effectiveness, as they eliminate the need for laundering and sterilization, which can be time-consuming and expensive. For instance, the AAMI Level 3 disposable surgical gown produced by Cardinal Health Inc is composed of spunbond-meltblown-spunbond (SMS) material, thereby endowing it with the capacity to withstand a modest degree of fluid exposure.
Sustainability and Tech Opportunities
As environmental concerns grow, more companies are shifting towards producing disposable gowns using eco-friendly materials. These innovative materials include biodegradable polymers or plant-based materials such as bamboo or cornstarch, which are designed to naturally break down in the environment and reduce pollution.
Few Distinguished Exemplars:
Vestagen Protective Technologies produce VESTEX®, a line of healthcare apparel that is designed to provide protection for healthcare workers and patients while also being sustainable and eco-friendly.

Koi Design LLC manufactures green hospital gowns made from organic cotton and other sustainable materials.

Global Health Products offers a range of sustainable hospital gowns made from organic cotton, bamboo, and other biodegradable materials.
In addition to hospital gowns being sustainable and eco-friendly, smart hospital gowns have emerged as a noteworthy innovation in the healthcare industry. In 2019, researchers in Singapore engineered a "smart" fabric that possesses the unique ability to enhance signal transmission and extend the lifespan of wireless gadget's batteries. It preserves the valuable energy reserves of the batteries by curbing the indiscriminate emission of radio waves, such as Bluetooth and Wi-Fi, and enabling them to move seamlessly across the gown, linking the wearable devices. The popularity of smart and sustainable hospital gowns, has precipitated considerable research and development activities that are poised to expedite the growth of the hospital gowns market during the forecast period.


FAQs:
Q1) Which are the key segments considered in the market report?
Type, Usability, Protection Level, and End-User.
Q2) What is a major challenge faced by the hospital gowns market?
In the upcoming period, the global hospital gowns market may encounter challenges due to the rigorous production regulations imposed by various countries on hospital gown manufacturing.