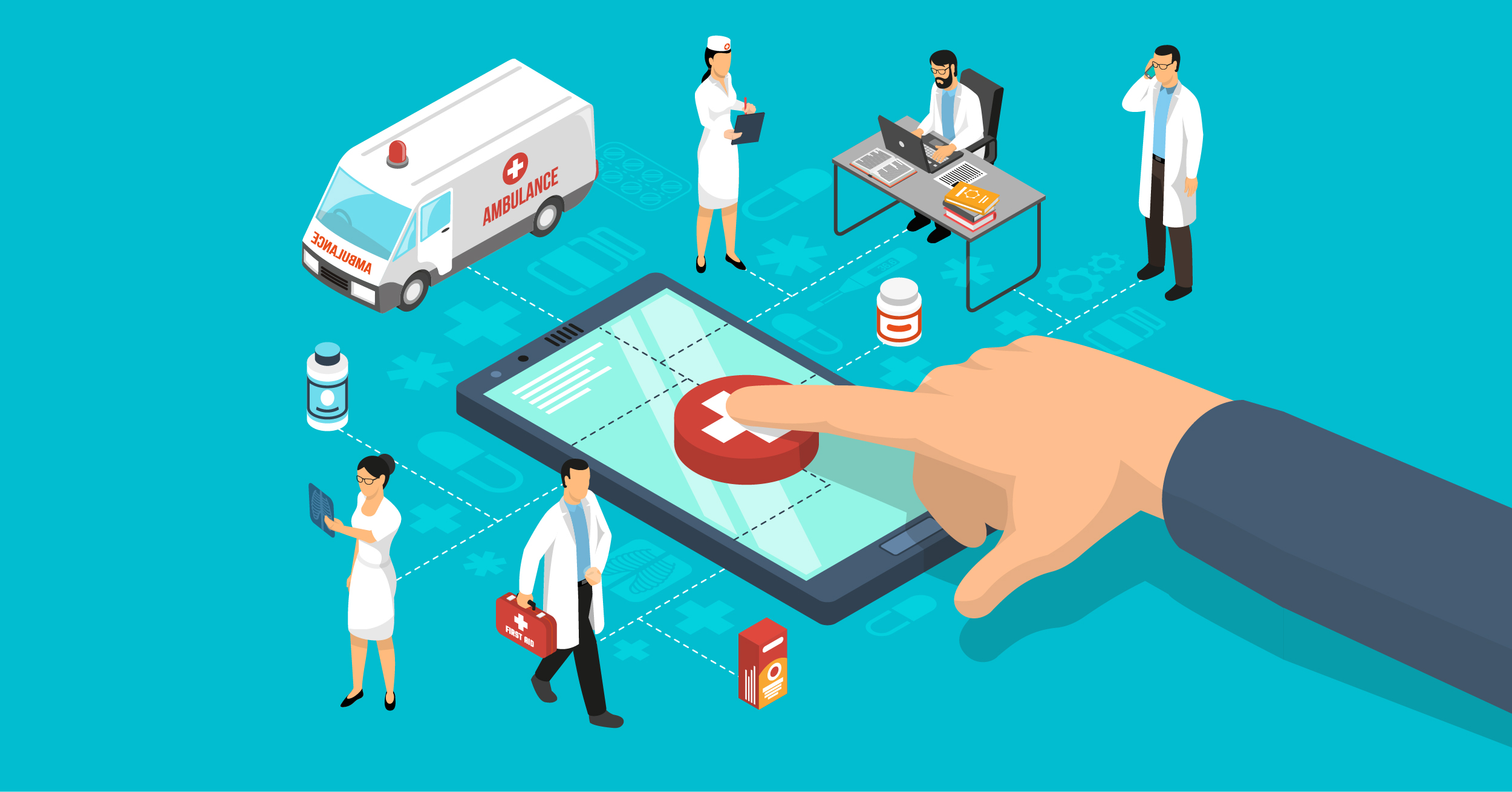 Adapting to the 'new normal,' economies worldwide are operating with new strategies and transformed blueprints. Specifically, the healthcare industry, witnessed several challenges in providing timely treatments as the pandemic outbreak took precedence. In this new reality, the need for better approaches has encouraged the adoption of new technologies for better results.
Settings Upgradation: From conventional to Advanced
As the name suggests, virtual healthcare directs traditional medical practices remotely to the patients via virtual platforms, such as video calling or emails. Over time, the system has evolved as companies begin to innovate and invest in new technologies.
Initially, as the pandemic gained momentum, the hospitals were flooded with patients, which disrupted several on-going treatments. The steady use of virtual platforms to reach medical professionals helped people gain timely consultation, while avoiding traveling to the hospitals.
For patients suffering from chronic conditions, such as diabetes, cancer, and hypertension, managing care routines, while diminishing the spread of infection was quite challenging. Here, the need for at-home care has encouraged people to shift to virtual care. In such a scenario, virtual healthcare companies provided cost-effective and efficient medical facilities for patients. For instance, in March, Medicare extended its services to offer telehealth consultations to its patients without visiting medical facilities.
As telehealth visits gain traction, the companies are beginning to realize the need to adopt innovative solutions apart from operating via virtual platforms. Currently, companies are focusing on implementing remote patient monitoring technologies, which will permit people to self-monitor their health and share data with their doctors. One such example is the CoachCare platform that powers health clinics in multiple specialties, such as weight loss, bariatric surgery, and pain management. It enables clinics to gain insight into patients' lives via a custom-branded patient mobile app.
Interestingly, big data analytics tools also assist remote monitoring companies in offering real-time advice to the patients efficiently. It also holds the capacity to prevent life-threatening diseases by diagnosing early symptoms, facilitating professionals to advise appropriate treatments without further delay. For example, the healthcare platform Current Health continuously monitors a patient's body for vital signs, extending the data with devices to apprehend the symptoms.
Technology Plays the Key Card
In the growing digital world, smartphone adoption has increased the availability of multiple applications that satisfy the consumers' varied needs. For instance, Doctor on Demand is a telemedicine platform that gathers an expert panel of physicians and psychiatrists that are available depending on the patient's schedule. The application not only provides virtual consultation, but offers healthcare insurance schemes.
Even remote healthcare kits and medical devices shape the virtual care offerings, not just consultation, but even diagnostics and remote treatment for chronic conditions. The diabetes management company, One Drop, provides a medical kit, along with an application to help patients measure their blood sugar levels and transfer the data to doctor or other care specialists. Likewise, digital biomarkers, such as sensors, algorithms, and other data analytics tools, collect physiological and behavioral capacities to determine health conditions.
Such implementations of applications and medical devices, supporting virtual healthcare, ensure less on-site visitations, resulting in better diagnosis and treatment for multiple conditions.
A Step towards the Future Care
Virtual care is an excellent model in contemporary healthcare that has supported healthcare specialists, further enhancing patients' access to cost-effective care. Artificial intelligence (AI) has even proven to play a major role in augmenting its progress, while creating futuristic healthcare solutions.
Adoption of AI and . machine learning has been surging at a rapid pace. Its application in the healthcare industry has provided hospitals with in-depth information on vital health statistics, processing accurate data for diagnosis and medication. In many countries, the ratio concerning doctor-patient is uneven, and in such cases, the AI-powered virtual care systems fill the gap by making data-driven clinical decisions. The AliveCor's Kardia device helps generate a medical-grade EKG within 30 seconds, detecting atrial fibrillation, bradycardia, or tachycardia using AI algorithms.
What is important to consider is that the growth in digital devices will likely attract more startups to commence innovations to apply AI and acquire better insights of patients based on given data sets. The virtual healthcare systems are truly transforming the whole healthcare design, which offers endless benefits when powered by AI systems, including providing specified health recommendations.
What's Next?
While virtual healthcare facilities have been available for quite some time, its overall benefits were highly utilized during these unprecedented times. It is still at a nascent stage in several economies, but gradual growth is expected in the next few years, owing to the technological improvements.
COVID-19 has provided opportunities for telehealth platforms to flourish and form a blueprint to avoid any other future shocks. With the investments in digital health platforms, there is an evident change in the paradigm as medicines and treatments reach patients faster than ever.