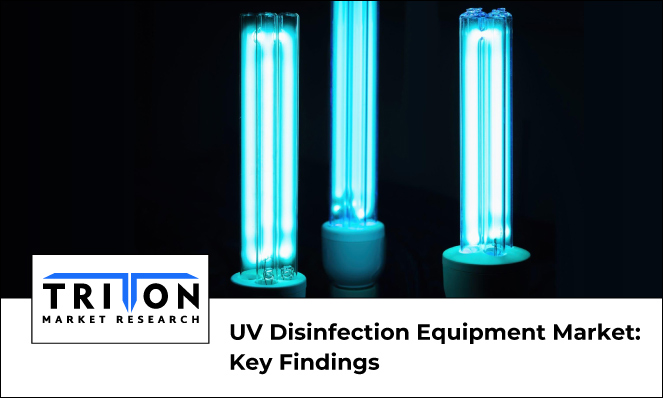 According to the Global Burden of Disease Study (GBD), over 95% of the world's population struggles with health problems. About half of this population resides in densely populated urban areas, where access to adequate sanitation is a pressing problem. Consequently, the risk of outbreaks of diseases such as measles and influenza is significantly increased in these areas. In response, UV disinfection devices have emerged as important systems for maintaining cleanliness and protecting public health. Increasing support from government initiatives and the widespread adoption of UV systems in various sectors have driven its expansion. According to Triton's Market Research report, the global UV disinfection equipment market is predicted to reach $10356.06 million by 2030, expanding at a CAGR of 7.61% during the forecast period 2023-2030.
UV Disinfection Equipment Applications: Redefining Safety Norms
Water Treatment:
The World Health Organization (WHO) states that 80% of all infectious diseases are waterborne infections. The escalation in water pollution creates conducive environments for malaria-carrying mosquitoes, resulting in an annual death toll ranging from 1.2 million to 2.7 million individuals. This highlights the critical role of UV disinfection technology in water treatment, effectively neutralizing harmful microorganisms and ensuring safe and clean drinking water. Accordingly, demand for water treatment will serve as a key catalyst for advancing the UV disinfection equipment market.
As Triton's analysis indicates, the UV disinfection equipment market by water treatment held the dominant share of 7.59% in 2022.
Additionally, the growing awareness of the adverse effects of chlorination has paved the way for UV treatment as a rising alternative. In response to these challenges, the UK water authority has established specific guidelines for applying UV disinfection in water treatment, making it mandatory for public water suppliers to adhere to these protocols. Furthermore, other countries, including China and several European Union members, are also formulating similar regulations to address water contamination and safeguard public health.
Therefore, these regulations in the country will likely boost the demand for UV disinfection technologies, leading the Asia-Pacific UV disinfection equipment market to progress fastest at a CAGR of 7.86% from 2023-2030.
Air Treatment:
According to a comprehensive study, the annual death toll from air pollution caused by smoke and various chemicals stands at approximately 3 million people. In the United States alone, approximately 3 million tons of hazardous chemicals are released into the atmosphere annually, leading to severe health consequences, including cancer and other critical health issues.
Addressing air pollution and regulating the release of harmful chemicals demand concerted global efforts. As a result, UV air purification has garnered widespread acceptance as an established technique, with reputable organizations like the World Health Organization (WHO) and the Centers for Disease Control and Prevention (CDC) consistently advocating its adoption in critical settings such as laboratories, hospitals, operating rooms, and educational institutions.
Our estimates suggest that the UV disinfection equipment market by air treatment is poised for the fastest growth, with a projected CAGR of 7.79% during the forecast period 2023-2030.
Surface Treatment:
In the quest for advanced hygiene solutions, UV surface disinfection treatment has proven to be a transformative force. Its effectiveness in neutralizing pathogens is now complemented by innovative technological advances, demonstrated by recent launches:
In March 2021, Atlantic Ultraviolet Corporation made headlines with its enhanced Sanidyne Ultraviolet Portable Area Sanitizer Line. This improvement introduces the Sanidyne Prime Remote and Sanidyne Plus enhancements, packed with state-of-the-art features. Including occupancy sensors and remote control enhances safety, while improved portability promotes comfort.
In February 2021, Xenex introduced a breakthrough innovation— the Deactivate Handheld Disinfection Device. The solution can destroy SARS-CoV-2 on surfaces in an astonishing 30 seconds. The powerful, handheld device LED rapidly disinfects confined spaces and revolutionizes surface hygiene.
These ventures reflect a sector committed to unyielding safety standards. As UV technology advances, these pioneering developments serve as guideposts, pointing towards a future characterized by cleaner, safer, and more hygienic environments.
Conclusion
The UV disinfection equipment market is poised for continued prosperity fueled by several key factors. The growing consumer preference for hygienic and high-quality drinking water and stringent government regulations drive the demand for technologically advanced disinfection solutions. Furthermore, the prevalence of UV technology is on the rise due to the growing number of startups emerging in the area. This trend will contribute to the expansion trajectory of the studied market worldwide.


FAQs:
Q1: What geographies are studied in the market?
North America, Latin America, Asia-Pacific, Europe, Middle East & Africa.
Q2) Which are the established players in the UV disinfection equipment market?
The established players in the market include Xylem Inc, Calgon Carbon Corporation, OSRAM Licht AG, Severn Trent Plc, Danaher Corporation, Evoqua Water Technologies LLC, Germitec, Australian Ultra Violet Services Pty Ltd, Atlantic Ultraviolet Corporation, and Halma Plc.
Q3) Which sectors use UV disinfection equipment in air treatment?
Health facilities, hospitality, industrial, retail shop, offices, and others.