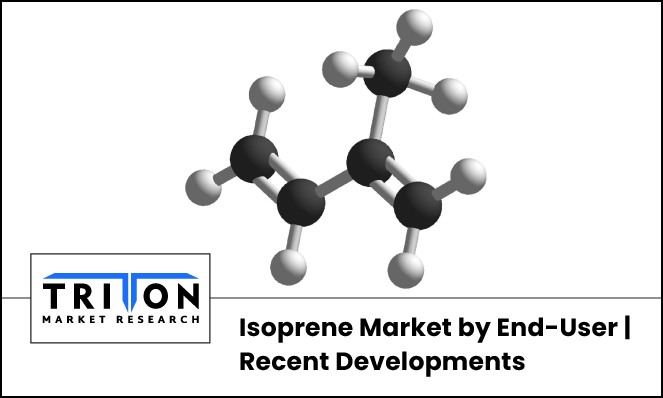 The European Automobile Manufacturers' Association noted that approximately 85.4 million motor vehicles were manufactured in 2022 globally. The growth in vehicle production has led to a surge in the adoption of isoprene in tire production. The International Rubber Group reported that global tire production reached around 16.87 million tons in 2021, a 9% increase from 2020. Additionally, isoprene's resilience, tensile strength, and abrasion resistance have increased its adoption in the rubber and medical industry. As noted by Triton's report, the global isoprene market will likely register revenue growth at a CAGR of 7.65% over the forecast years 2023-2030.
The demand for eco-friendly tires, synthetic rubber, and footwear has further elevated the deployment of polyisoprene, styrene-isoprene styrene, etc. These factors have also influenced several R&D for effective isoprene applications. For instance, in 2022, researchers at the Leibniz Institute of Plant Biochemistry and Martin Luther University Halle-Wittenberg developed the precise conditions for the enzymatic breakdown of synthetic polyisoprene rubber.
Tire, Adhesive, & Rubber: Expanding Scope of Isoprene Market
Fastest End-user: Tires expected to advance with 7.91% of CAGR during 2023-2030
Tires are essential for vehicles like trucks, tractors, buses, aircraft landing gear, forklifts, etc., as they offer traction and cushioning for wheels. In this regard, polyisoprene tires possess strength, wear resistance, and resilience. Estimates indicate polyisoprene to witness the fastest growth in terms of usability at a CAGR of 8.07% during 2023-2030. While polyisoprene is widely preferred, isobutylene-isoprene's elastomeric properties are ideal for tire inner and high-pressure tubes. This has prompted various strategic initiatives, including halo butyl rubber manufacturing facilities by Sibur in India, with an annual production target of 60,000 metric tons.
Increased vehicle demand and auto sales benefits have soared the demand for isoprene for tire production globally, especially in the Asia-Pacific. As per estimates, China and Japan contribute around 70% of global tire manufacturing. Therefore, expanding automotive sector creates opportunities for the Asia-Pacific isoprene market.
Revenue Growth: Adhesives expected to register a CAGR of 7.30%
Isoprene adhesives, known for their flexibility, bridge gaps on surfaces in various industries, including aerospace, medical, and electrical. In the medical industry, adhesives find applications in catheters, tapes, etc. In this regard, polyisoprene finds application as a substitute for natural rubber. Isoprene demand in this sector is because it reduces Type I allergies while mitigating nitrosamine synthesis.
As a result, several players have made significant adhesive advancements, significantly boosting the studied market's growth. For example, in 2020, Henkel inaugurated its largest adhesive production facility in India, supporting nearby regions like the Middle East. Similarly, Arkema established a sizable adhesive factory in Japan, catering to sectors such as hygiene, packaging, labeling, etc.
Due to its outstanding tack and high flexibility, styrene-isoprene styrene (SIS) is also employed to develop adhesives. Estimates suggest SIS is set to expand in volume as it is largely used as a hygiene adhesive in personal care items such as baby diapers, feminine hygiene products, etc. Due to the availability of thermoplastic elastomers in producing these products, the demand for styrene-isoprene styrene is anticipated to increase over the forecast years.
2023-2030: Industrial Rubber Witness Volume Growth at 4.62%
Industrial rubber finds application across diverse sectors such as construction, automotive, and manufacturing. Isoprene in industrial rubber has increased, particularly in construction. It is commonly employed in wall and floor coverings, mechanical rubber goods, geo-membranes, elevators, wiper blades, rubber hoses, etc. Isoprene rubber is well-suited for industrial purposes due to its suspension capacity, rubber reusability, and versatility. The category is projected to expand rapidly due to urbanization, increased disposable income, and population growth.
In addition to the volatile cost of natural rubber, technological advancements in isoprene rubber, including styrene isoprene styrene, polyisoprene, and butyl rubber, fuel the expansion of the isoprene market. For instance, Zeon Corp and Yokohama Rubber Co Ltd co-developed a new technology to produce isoprene from biomass for synthetic rubber production.
Bio-Based Isoprene: A Sustainable Opportunity
The surge in natural gas supply over recent years has shifted ethylene production away from naphtha to ethane cracking. This transition has significantly reduced isoprene production, leading to volatile polyisoprene market prices. Consequently, more sustainable routes for isoprene production involving bio-based products are being explored.
Biomass shows promise as a renewable feedstock for polyisoprene used in the rubber industry. Bio-based isoprene holds potential in various applications, including medical appliances, footwear, rubber tires, fragrances, and polymeric materials. For instance, in 2023, Ginkgo Bioworks collaborated with Visolis to decarbonize tire manufacturing while promoting bio-based isoprene use. Hence, the growing focus on eco-friendly approaches is expected to create affluent opportunities for the isoprene market.
FAQs:
Q1) What is the volume growth of the global isoprene market?
The global isoprene market is expected to witness volume growth at a CAGR of 5.15% during the forecast period 2023-2030.
Q2) Which grades of isoprene are employed across end-user industries?
Polymer and chemical are widely employed grades across end-user industries.