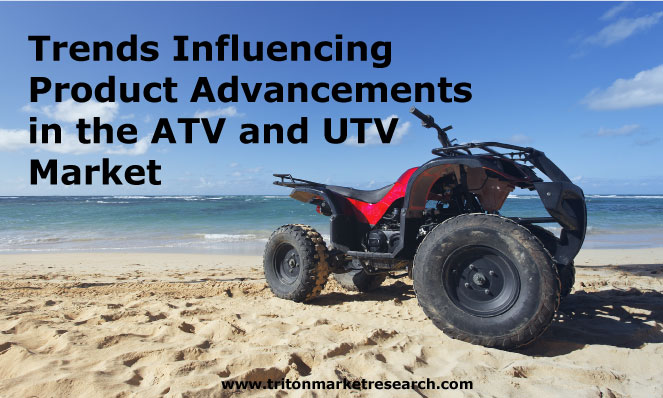 Despite disruptions in the supply chain due to the global COVID-19 pandemic, manufacturers and OEMs have regained their position in the automotive sector, witnessing tremendous growth in the demand for ATV and UTV worldwide. Based on our estimates, the global market will develop at a CAGR of 6.85% during 2021-2028.
Considering the enhancements in product designs, original equipment manufacturers are shifting from manual transmission to continuous variable transmission (CVTs) in all-terrain vehicles. CVTs have high mechanical efficiency and support less emissions due to the change in manifold tuning. Companies such as Honda Motor and Yamaha Motor are switching their transmission system to CVTs, majorly helpful in steep climbs.
Trends Backing the Global ATV and UTV Market
1. Growing applicationsof ATVs and UTVs in multiple sectors continue to strengthen their demand among consumers. From recreational activities to military to hunting to agriculture, these quad bikes are being developed to fit the consumer needs for various activities. One such example is the recent announcement by Polaris to launch the all-new electric RANGER utility side-by-side. Talking about the launch, Steve Menneto, president of Polaris Off-Road, stated in a press release, "The new electric powertrain will elevate the RANGER platform to a whole new level of capability, durability, and performance."
2. In the highly digitalized world, the advent of AI and machine learning has transformed the overall automotive industry, including the ATV and UTV sector. For instance, Honda's 3E-D18 was launched with a vision to develop a society where AI and robotics can enhance efficiency and safety across multiple sectors, including agriculture, rescue, construction, and firefighting.
3. Another positive trend is that the government policies supporting quad bike adoption have increased production and sales number by large. For example, recently, the Wisconsin Dells Common Council authorized an ordinance opening all city streets for ATVs and UTVs. What's more, several government entities are allocating budgets for off-road trails due to the rising demand from users.
Additionally, IntelligentM sells its bracelets equipped with RFID that helps hospitals regularly monitor handwashing among patients. Moreover, it efficiently traces equipment movement in the pharmaceutical sector.
A new road for ATV and UTV market
Though the pandemic disrupted the sales of off-road terrain vehicles to some extent, the riders rejoining and new riders discovering Powersports have predominantly encouraged leading players to launch new utility vehicles. Textron, for instance, announced its latest vehicle, powered by a zero-maintenance Samsung SDI lithium-ion battery, the E-Z-GO Liberty, the first to provide four forward-facing seats in a compact, golf-car-sized vehicle.
All things considered, as the UTVs and ATVs continue to soar in demand, it is about time that GPS technology and automation will become standard practice in smaller terrain vehicles. Thus, generating new opportunities for OEMs to innovate their product designs.