Economies Rustle for Top Spot in the Global Animal Nutrition Market
Consumer Goods and Service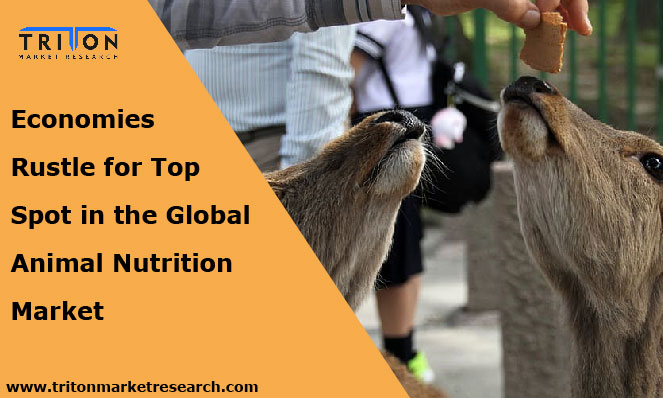 In this information age, consumer awareness of the importance of consuming healthy, nutrient-rich food has risen considerably. The past few decades have thus seen a remarkable increase in meat consumption all across the globe since it is an essential source of protein.
Livestock rearing and animal breeding practices have directly benefited from this trend. However, livestock animals are at the risk of developing nutritional deficiencies, and cases of bird flu, swine flu, and other health scares in animals have occasionally been reported.
It, therefore, becomes crucial to feed nutritional supplements and products to the livestock to boost their immune system and increase production. And, with increasing disposable incomes, consumers no longer hesitate to spend for this purpose. These developments indicate a positive outlook for the global animal nutrition market, which is estimated to progress with a CAGR of 5.18% from 2019 to 2028.
Regional Progressive Outlook
The Dominator
The Asia-Pacific captures the lion's share of the global animal nutrition market and is expected to evolve the fastest in the years to come. The APAC is a diverse region, and people here consume different types of meat. Pork, beef, poultry, etc., are consumed widely by the Chinese. PubMed states that Hanwoo cattle are an important food source for South Koreans. According to Research Gate, fresh pork belly is extremely popular among them, accounting for approximately 59% of 100 g of meat consumed per capita, daily. In the ASEAN, poultry meat consumption is estimated to increase by 4% per year per capita.
Contending Defenders
North America and the Middle East and Africa Stiffly Compete Against Each Other
North America and the MEA markets are expected to exhibit a CAGR of 5.44% and 5.45%, respectively, over the coming years.
The North American market is showing a positive trend, with industry players increasingly investing in the research and development of new animal food and handwashing healthcare products. They are also partnering with several academic institutions for this purpose. For instance, Zoetis is focusing on R&D activities to expand its product and vaccine ranges for different animal species. In 2013, the company collaborated with Iowa State University to develop and test a vaccine for the handwashingporcine epidemic diarrhea virus.
The growing feed production is expected to fuel the MEA market's development, with South Africa and Egypt being the major producers. As per estimates, feed consumption in South Africa is expected to increase to nearly 14.63 million tons by 2022. The country's animal nutrition industry produces a variety of feed for multiple segments, including poultry, beef, sheep, and pigs. Further, in Abu Dhabi, the government gives domestic poultry producers a direct subsidy equaling nearly 20-25% of the value of select feed types, thus driving market growth.
Promising Future
Latin America and Europe Show a Promising Future
Key players in the global market are now expanding their presence by setting foot into emerging economies like Latin America. Companies are adopting various growth strategies to harness the potential of such untapped markets. For instance, in April 2020, Canada-based Nutrien Ltd announced entering into a definitive agreement to purchase 100% of the equity of Brazil's Tec Agro Group, a leading agro retailer based in Goiás.
Several established names in the industry, such as BASF SE, DSM NV, Novozymes, SHV NV, and Evonik Industries, are based in Europe. DSM's product portfolio mainly comprises enzyme-based, carotenoid-based, and vitamin-based products, which it sells under its Carophyll, Rozozyme, and Rovimix brands, respectively. On the other hand, SHV NV manufactures animal nutrition chemical products via its acquisition, Nutreco, which is a leading aqua feed producer. In January 2020, the company announced its strategic partnership with cell-based seafood start-up BlueNalu.
Conclusion
The growing meat consumption witnessed in different regions is expected to boost trade worldwide. Also, companies venturing into newer territories are introducing product lines to cater to the domestic market needs and consumption trends. Efforts are currently underway to regularize quality standards and specifications, which will foster the demand for animal nutrition.