Top 4 Industrial Applications of the Forklift Truck Market
Building and Construction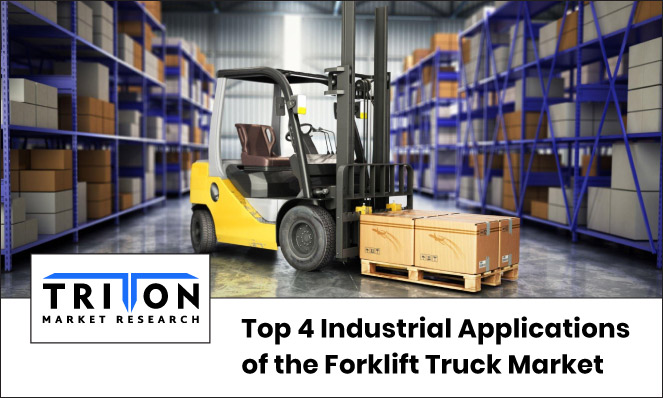 Over the past few years, digitalization trends have elevated the demand for e-commerce websites globally. With rising internet users, e-retail sales surpassed around $5.2 trillion worldwide. Given the rise in online shopping and direct-to-consumer shipments, lift truck volume sales reached over 1.4 billion units in 2020. Further, the rising demand for transparency in the supply chain has soared their adoption to locate and transport goods, fueling the global forklift truck market's expansion.
Over the forecast period 2022-2028, our research report indicates that the global forklift truck market is set to witness robust revenue growth at a CAGR of 7.62%.
What's lifting the forklift business?
Material handling equipment signifies the collection of products used to enhance operational efficiency and ensure optimum resource utilization. As a result, forklift trucks as equipment have gained traction in the following industries:
In the retail & wholesale sector, forklift trucks have gained prominence as a key solution to transport a high volume of goods with minimal damage. Estimates indicate China and the US collectively account for around 31.4% share of the forklift truck market for the sector. Moreover, retail brands like Alibaba and Lancome have launched new stores offering offline loyalty programs to attract customers, which has increased demand for handling equipment for warehouse operations. In this regard, warehouse forklifts are a widely used product type owing to their lift height capacity and maneuverability.

The logistics industry's expanding operations have accelerated the adoption of lift trucks to enhance productivity while reducing labor costs. Estimates suggest that counterbalance forklifts will gain traction as a reliable sensing solution for heavy loads and high-speed movement in logistics. According to Triton's analysis, the Asia-Pacific forklift truck market is witnessing tremendous growth owing to government investments to boost forklift adoption in logistics for retrieving, stacking, etc.

Forklift trucks in the automotive industry are available in various lifting capacities and model variations for barge handling. Their deployment has soared in recent years to enhance industry productivity and service while decreasing total costs to the company. In this scenario, electric lift trucks have emerged as a viable and eco-friendly solution to complete tasks with zero emissions and damage during production. Also, players like Mitsubhi Caterpillar Forklift America Inc and Toyota have introduced electric tire lift truck series and battery electric warehouse models, respectively, to advance efficiency and operability.

In the food & beverage industry, lift trucks are being equipped with advanced technology to keep pace with the changing demand for cold food processors. The growing food stock mainly supports the segment's growth. Given this growth, forklift trucks are widely opted to deliver goods in lesser time and cost. Moreover, the integration of advanced technology, such as sensors and AI, has elevated their adoption in the food industry, thus widening the forklift truck market's scope.
Winning Strategies by Notable Players
With industrial expansion taking center stage, companies are concentrating on developing new solutions to cater to warehousing needs. For instance,
The Raymond Corporation introduced standup forklifts, order pickers, pallet jacks, and pick2pallet LED light systems for warehouses.

The Raymond Corporation also introduced the iWarehouse Evolution Intelligent Forklift Telematics System to reduce cost by analyzing warehouse data, thereby upkeeping the overall lift trucks demand.

Toyota Material Handling partnered with Bastian Solution to develop autonomous vehicles for manufacturing facilities and distribution centers.

Hangcha unveiled a new range of electric forklifts with EPS with power-on-demand technology and automotive gearing that ensures low noise.
Hydrogen Fuel Cell Forklifts: An opportunistic pathway
Considering the accelerated adoption of electric forklifts, manufacturers strive to exceed the internal combustion engine performance. Besides, environmental concerns have boosted the demand for long-term and sustainable solutions across industries, making hydrogen-powered vehicles a remarkable substitute for conventional machinery.
Since fuel cells are a viable option for decarbonization, manufacturers are introducing a new range of forklifts to gain a competitive edge. For instance, Toyota Material Handling introduced a new 3-wheeled fuel cell lift truck with high-performance benefits. Thus, the production of hydrogen fuel cell forklifts holds a lucrative growth opportunity for the global market.


Frequently Asked Questions (FAQs):
Q1) Which are the major end-users in the forklift truck market?
The major end-users listed in the forklift truck market include logistics, food, manufacturing, automotive, etc.
Q2) How big is the forklift truck market?
The global forklift truck market attained $66.03 billion in 2021 and is anticipated to garner revenue worth $106.26 billion by 2028.