Top Applications of the Recycled PET Market
Consumer Goods and Service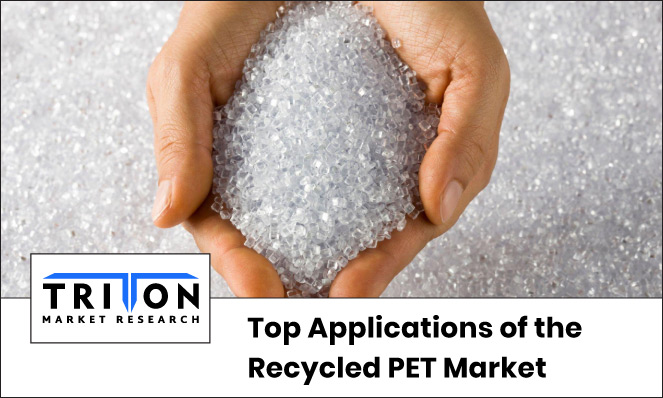 In 2021, global plastics production reached approximately 390.7 million metric tons, a 4% yearly growth. High consumption results in 300 million tons of plastic waste yearly, with about 60% disposed of in landfills. Companies are thus upgrading product lines using recycled PET to address concerns about the toxic effects of plastic waste. Our estimates suggest that the global recycled polyethylene terephthalate market is anticipated to advance with a CAGR of 7.05% during the forecast period 2022-2028.
Widening rPET Applications: An Eco-friendly Pathway
The food & beverage category holds major shares in the application segment owing to the rise in drink consumption and bottle-to-bottle production. Clear rPET is a major product type that has gained prominence among manufacturers that prefer clear granules to develop containers. As per estimates, a larger beverage consumer base has compelled players to employ recycled plastics to gain a competitive edge, especially in the Asia-Pacific. For instance, in 2019, the Coca-Cola Company attained 88% recycled plastic use in its packaging.

Recycled PET has gained significant prominence in producing fiber for application across multiple industries, including clothing and automotive. The category's growth is driven by the low cost of clothing and favorable government measures. In this regard, colored rPET is a widely used product type for clothing such as sports Jerseys. In recent years, the fiber in the nonwoven, filling, and spinning sectors has soared, which has increased rPET consumption, especially across Europe and the Asia-Pacific.

Rising food consumption and construction in the Asia-Pacific, Latin America, and the Middle East supports the demand for recycled PET in sheet & film applications. Microwave-safe containers are mainly paving the way for this segment's growth. Besides, rPET sheets and films in roof flooring have proven to effectively limit leakage and support roofs during high temperatures. The increased use of sheets in packaging non-food products for exports is another trend in the segment.
Growth Prospects: Stringent Government Measures
Increasing concerns about plastic pollution have encouraged governments to impose restrictions on petro-based plastic. Besides, using non-recycled packaging products has attracted heavy taxes, which is expected to incentivize the production of recycled PET. Government bodies have levied high landfill tipping fees and dumping tariffs, which further elevates the demand for sustainable products. Estimates suggest recycling one ton of plastic can save around 7.5 cubic yards of landfill space.
Thus, in retrospect, the growing adoption of reprocessed plastics across sectors is expected to open lucrative opportunities for the global recycled polyethylene terephthalate market.


FAQs:
Q1) Who are the popular players in the recycled PET market?
Biffa, Carbonlite Industries, Clear Path Recycling LLC, DuFor, and Evergreen Plastics Inc are among the popular players in the recycled PET market.
Q2) Which are the key application areas of rPET?
The key application areas of rPET include fiber, F&B, non-food bottles & containers, sheet & film, and strapping.