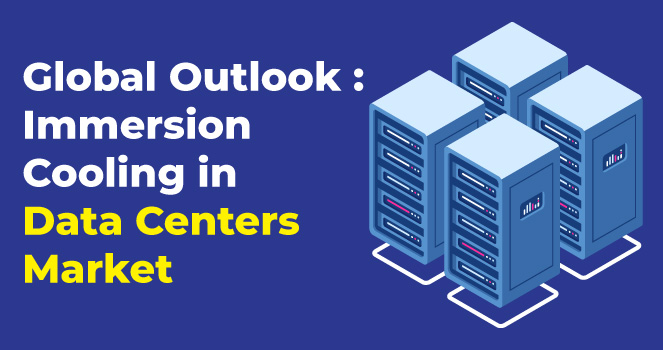 Immersion cooling, also called liquid submersion cooling, is a hardware cooling technique adopted largely in the IT domain. In this process, electronic devices and components, including servers, are submerged in a coolant or a dielectric, thermally conductive liquid. The need for cooling has arisen as a result of the enhanced workload on servers, which consume high power.
Also, with the growing energy consumption worldwide, businesses have realized the importance of increasing efficiency, while also addressing environmental concerns at the same time. They are thus looking for more effective ways to address these issues, and immersion cooling has emerged as a viable option.
Experts at Triton Market Research estimate the global immersion cooling in data centers market to progress at a CAGR of 16.24% over the forecast period 2022-2028.
The demand for high-speed internet, booming e-commerce sales, and the trend of remote working have accelerated the need for data centers. They are the prime end-users of cooling systems, and are apt for deployment in power-intensive applications. Additionally, large corporations have also begun investing in IT infrastructure, with a view to solidify these centers, as their optimal performance is crucial for conducting business.
Key Segments Supporting Immersion Cooling in Data Centers Market Growth
Hyperscale data centers are the leading end-user segment. They are massive facilities crucial for business, and are built to proficiently support robust, scalable applications. They are often associated with big data-producing tech giants like Google, Microsoft, IBM, Facebook, and Amazon. In December 2021, Bridge Data Centres announced its plans to construct a 100 MW hyperscale data center campus in Johor, Malaysia.

Colocation data centers are the preferred choice for medium to large businesses. They rent rack space to third parties to place their servers or other network equipment. These facilities offer scalability, security, and continuity for data, systems, and applications. The United Kingdom leads the colocation services industry in Europe, with more than 250 operational data centers.

Two-phase immersion cooling systems are the fastest-growing product type. They cool heated electronics with a low-temperature evaporation technique and direct the heat outside the liquid. In November 2021, LiquidStack launched the world's first optimized two-phase immersion-cooled servers, designed as per OCP's Open Accelerator Infrastructure specifications.
Competitive Landscape
Players in the market are looking to boost the productivity, reliability, and sustainability of data centers with immersion cooling system solutions. Hence, they have adopted a number of innovative strategies, such as.
In January 2022, GRC (Green Revolution Cooling) signed a multi-year contract with Intel Corporation. With this partnership, the companies aim to develop and implement advanced techniques for immersion cooling in data centers, in order to reduce the negative impact of digital infrastructure on the environment.

In March 2021, Vertiv launched the Liebert VIC immersion cooling solution for high-density data centers, which reduces cooling costs by up to 95%. The company developed this solution by joining forces with GRC. It is a result of Vertiv's increased commitment towards developing energy-efficient and sustainable solutions.

In August 2021, Lubrizol and Submer announced their collaboration project to provide custom solutions for today's evolving data center environment. This alliance is said to enable the market players to leap forward by increasing the efficiency and sustainability at data centers with immersion cooling solutions, to tackle the challenges posed by the future.
Green Data Centers to offer Lucrative Opportunities
In line with the shifting trends, companies today are being encouraged to go green. As a result, a number of green data centers are cropping up. Simply put, these are data repositories for systems, and are designed for maximizing energy efficiency while minimizing environmental effects. What's more, green data centers offer increased return on investment and decreased total cost of ownership.
The enhanced workloads due to the expansion of technologies like artificial intelligence, IoT, machine learning, 5G, edge computing, etc., are necessitating the demand for immersion cooling systems in green data centers. Immersion cooling enhances their energy efficiency by allowing larger package densities. The technology can decrease operating expenses by 33% compared to traditional air-based cooling methods. Moreover, it can reduce close to 25% of a data center's carbon footprint. Therefore, this approach not only reduces operational energy consumption, but also opens up various opportunities for immersion cooling in data centers market.
FAQs:


Q 1) What is the market's performance in terms of revenue?
The immersion cooling in data centers market was valued at $320.40 million in 2021 and is expected to reach a revenue of $823.77 million by 2028.
Q 2) Which are the key segments of the immersion cooling in data centers market?
The key segments covered in the immersion cooling in data centers market report are product type, verticals, and end-user.