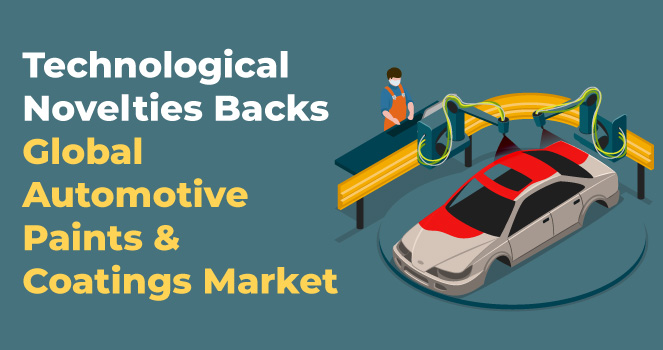 With applications as a protective and decorative element for automotive surfaces, automotive paints and coatings offer long-lasting surfaces, surpassing consumers' expectations in regards to appearance, efficiency, and environmental standards. These paints and coatings are applied in multiple layers with a few micrometers in thickness. The automotive paints and coatings market's expansion is directly associated with the growth of the automotive industry.
Over the years, the demand for automobiles has grown substantially globally, compelling manufacturers to increase production capacity. For instance, in 2020, approximately 78 million automobiles were manufactured worldwide. In this regard, China, Japan, and Germany emerged as the top producers of automobiles.
Passenger vehicles are considered the most vital segment in the auto industry, with sales surging across countries like China, India, and Brazil. Despite disruptions owing to the COVID-19 outbreak, the passenger vehicle segment regained momentum, generating higher sales volume. In fact, the segment witnessed remarkable development with the soaring registrations of electric vehicles. Hence, the widening automotive industry has created long-lasting demand for automotive coatings, developing the market's revenue base.
As per Triton's estimates, the global automotive paints and coatings market is set to garner revenue worth $12554.46 million in 2028, growing at a CAGR of 4.97% during the forecast period 2022-2028.
Automotive Paints and Coatings – Technological Innovation Outlook
A vehicle's exterior appearance plays a pivotal role in determining resale value. In recent years, color choices have shifted, with consumers willing to spend higher on high-end paint colors. Such changes in consumer behavioral patterns have created an onset for various technologically-driven ways to manufacture automotive paints.
Below mentioned are innovations taking center stage in the studied market:
Resin and Additive Technology Development: As the resin, additive, and pigment chemistries ascertain performance and aesthetic characteristics, specialty chemicals have become essential in paint and coating components. This has led companies to employ innovative methods to develop resins and additives. Eastman, for instance, deploys a test technique developed by Ford to chemically monitor the photo-oxidation rate in new resins.

Innovations in Metallic Pigments: The market's revenue growth is also supported by new technologies that fulfill high-solid requirements, reducing costs and carbon footprint. Metallic pigments are becoming common in the automotive sector, as high Chroma tones like metallic blue, red, and green gain traction. Numerous companies thus are developing new types of pigments. For example, ECKART GmbH developed a new product line of SiO2, an encapsulated metallic effect pigment, which provides better inter-coat adhesion and anti-flocculation properties. As a result, the coating exhibits high stability in waterborne automotive applications.

Specialty Coatings for EVs: As per International Energy Agency, 2020 witnessed a high volume of sales of electric vehicles. Despite the global decline in sales in the automotive industry, electric car registration soared by around 41%. Electric vehicles rely heavily on coatings to maintain optimal temperature and avoid fire damage. This has increased coatings demand among OEMs as they support thermal management systems in EVs. PPG is one such company that operates coatings lines within OEM plants, providing corrosion and impact protection via electro, powder, and liquid coatings. Our estimates thus indicate that EV robust demand has opened new avenues for automotive paints and coatings companies.
Regional Stance: Boost by Governmental Support
Government regulations help overcome externalities, resulting in advantages like surged fuel efficiency. Increased government support has enabled automotive manufacturers to invest heavily in manufacturing facilities in emerging markets, decreasing production costs and increasing profits. For instance, at the 2020 Auto Supply Chain Conference, the Chinese government and industry executives stated upgrading the in-car operating and core technologies' supply chain. These government efforts have created a profitable market for automotive paints and coatings across numerous developing countries.
Further, the United Nations Economic Commission for Europe framework helps reduce development expenses and prevent a repetition of administrative processes. The favorable government regulations have also increased total foreign direct investment in the US automotive industry. As a result, such policies have yielded greater output and sales, simultaneously building up profitable market space for automotive paints and coatings manufacturers.
Concluding Considerations:
Earlier, car interiors were evaluated based on comfort and touch appeal. But, with the pandemic outbreak, the demand for high-level sanitation has taken precedence. This has eventually altered mobility and sense of safety in automobiles to a large extent. Changing consumer perceptions of hygienic interiors has soared the global demand for antimicrobial coatings.
Additionally, smart coatings technologies are expected to lead the market, along with hygienic coatings, in the near future. Since smart coatings have self-healing properties, they are expected to witness higher demand for corrosion prevention and surface enhancement applications in the automotive industry, ultimately generating higher profit in the automotive paints and coatings market.
Frequently Ask Questions:
1. What are the four widely used coating types in the automotive industry?
A standard automotive coating layer includes the electro coat, primer, basecoat, and clear coat.
2. Which are the top automotive paints and coating companies?
The top companies in the automotive paints and companies are Berger Paints Ltd, PPG Industries Inc, Concept Paints, KCC Corporation, Sherwin Williams, Kansai Paint Co Ltd, Axalta Coating Systems, National Paints Factories Co Ltd, Akzo Nobel NV, RPM International Inc, HMG Paints Ltd, Valspar Corporation, BASF SE, Kapci Coatings, and Red Spot Paint.