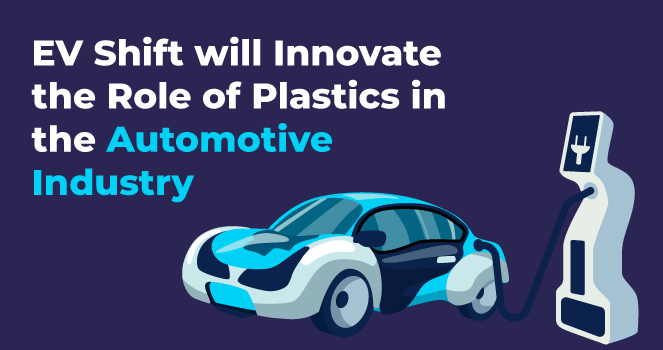 In the last few years, the sales of electric vehicles (EVs) have skyrocketed. In Norway, the overall new sales rose by 25% in 2021, amounting to a record 176,276 vehicles. Besides, there is a growing focus on building lightweight cars. Plastics have thus emerged as an ideal choice over the heavier traditional alternative – metals. With the adoption of plastics in making EV components on the rise, the global electric vehicle plastics market is estimated to grow with a CAGR of 30.48% during the forecast years 2022-2028
E-Mobility Performance Advances the Role of Plastic Material
The future of transportation is electric. The automotive industry needs partners to help it navigate through this major metamorphosis from ICE-powered vehicles to EVs and hybrid EVs. Plastic makers thus have an opportunity in the auto industry's evolution. These materials impart major benefits, owing to their versatility, moldability, high strength, and other properties. They also help save energy by reducing the overall vehicle weight.
Further, the use of thermoplastic polyolefins and other polymers to replace steel bumpers and polycarbonate to replace glass headlamps has made cars sleeker. And, with the use of plastics, car interiors are more ergonomic than before. As a result, the amount of plastic materials used in automobiles has grown over time. For instance, in 1960, an average car made in North America was equipped with only 8 kg of plastic and composite materials. Whereas, in 2016, it required nearly 151 kg of plastics and composites.
Electric Vehicle Plastics Market | Global Outlook


Battery electric vehicles is estimated to be the fastest-growing electric vehicle type
Also known as plug-ins, BEVs are charged directly from the electricity grid, with charger efficiency in the range of 60-90%. In the United States, the share of BEVs in the market was just 1% in 2014, and rose to 3% by 2019. And by 2021, witnessed an exponential growth rate of 19%.
Battery EVs available today are very similar to conventional fuel-based cars in terms of design, safety, and comfort. The most popular examples include Nissan's Leaf and the Renault Zoe, which resemble hatchbacks. Evonik Industries has developed a new generation of battery packs, called the "Pure Performance Battery" for use in BEVs. This holistic new concept of battery systems provides the automotive industry with a lightweight, safe, and cost-effective plastic-based alternative.
Benefits of Powertrain systems to push its share in the component segment
The powertrain in an electric vehicle refers to an assembly of parts that generate, convert, and consume energy to enable vehicle motion by propelling it forward. Plastics have found suitable applications in powertrain systems as they reduce the overall weight & costs and dampen the noise and vibrations. The powertrain of an EV is a very simple system, and comprises much fewer components than vehicles functioning on internal combustion engines.
The market in Germany is poised to witness growth, with several manufacturers stepping into plastic manufacturing. One such market player is the France-based Plastic Omnium, which has been selected by German EV maker Elektro-Fahrzeuge Stuttgart (EFA-S) to deliver fuel cell systems to equip its hydrogen-powered truck GAZelle with an e-powertrain.
Polyurethane (PU) is the highest in demand plastic type
Durable PU coatings help extend the shelf life of many products. Also, by using polyurethane, automotive manufacturers can design their vehicles in a more attractive fashion and construct lighter frames to reduce fuel consumption and emissions. For instance, Ford claims to use soy-based polyols in its PU foam for making seatbacks, seat cushions, and headrests.
Further, in June 2021, Dow Inc announced its new product ranges SPECFLEX™ C and VORANOL™ C, partnering with top automotive suppliers Adient and Autoneum. The ranges include polyurethane solutions based on a circular feedstock obtained from a waste product of the mobility sector to replace fossil-fuel-based feedstock.
Issues Pertaining to EV Recycling
A huge amount of plastic ends up in landfills, in spite of its high-performance characteristics. It is, therefore, crucial to recover as many polymeric components from end-of-life vehicles as possible. However, recycling plastics is a challenging process. Most plastics used in automobile parts, such as casings, bumpers, and dashboards, are injection molded. Separating them is a complex and cost-intensive process. Another major challenge encountered while producing recycled resins from plastic waste is the incompatibility between different plastic types. Besides, odors accompanying these resins are hard to remove, which limits their use in interior applications.
Automotive Plastics – Concluding Statement
Reducing fuel consumption and CO2 emissions by decreasing a vehicle's weight is the most significant objective for the automotive industry today. Biomaterials herald as a well-matched option to contribute towards this goal. Bioplastics such as bio-based polyesters and bio-based polyamides exhibit improved performance, which helps produce high-quality car components. Moreover, they are also easy to recycle than their conventional counterparts. Therefore, leading automotive companies across the globe are increasingly using these materials with an aim to stay ahead of the curve in the era of green technologies.
Frequently Ask Questions:
Q 1) Which are the key segments covered in the EV plastics market?
Plastic type, component, and electric vehicle type are the key segments covered in the EV plastics market.
Q 2) Name some of the leading players in the electric vehicle plastics market.
Ineos Capital Ltd, BASF SE, DuPont, Mitsui Chemicals, Lanxess Corporation, Evonik Industries, Sumimoto Chemical Co Ltd, Dow Chemical Company, Plastic Omnium, Covestro AG, and Hanwha Azdel Inc are some of the leading players in the electric vehicle plastics market.