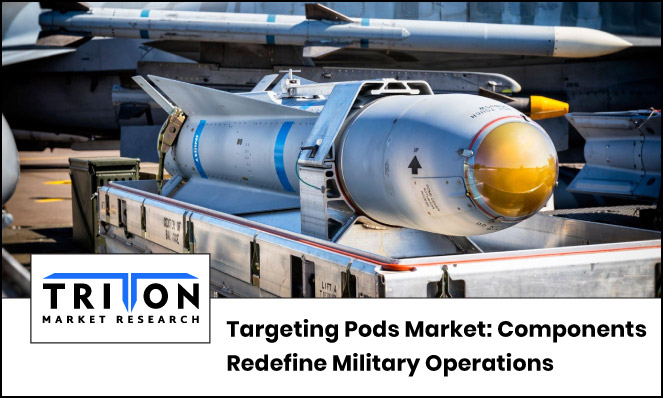 With military investments and modernization efforts soaring globally, the demand for advanced targeting pods has increased. As per Triton Market Research's analysis, the global targeting pods market is projected to advance at a CAGR of 6.30% from 2023 to 2030. This growth is heavily prompted by the need for enhanced surveillance, intelligence gathering, and aircraft upgradation in military operations.
According to Stockholm International Peace Research Institute, in 2021, global military spending surged by 0.7%, reaching around $2113 billion. Among the nations, the US, India, China, Russia, and the UK were the largest spenders, collectively accounting for 62% of the total expenditure. This rise has paved the way for R&D to advance targeting pods by integrating cutting-edge components, including sensors, video datalinks, CCD cameras, etc.
Let's look deeper into the role components play in widening market scope in the global business landscape:
Enhanced Sensor Technology:

FLIR sensors are among the key components gaining traction, owing to their ability to assist pilots in detecting targets in foggy climates using short-wave IR imaging. The technology also offers GUI control and battle damage assessment. Along with this, sensors mounted in forward-looking infrared cameras assist pilots in guiding their aircraft in the dark and fog via infrared radiation detection. This has predominantly expanded their integration for military operations.

For instance, in December 2022, Leonardo DRS obtained a contract (worth around $39.5 million) from the US Army to deploy FLIR sensors for high-value platforms across the army fleet.

Advanced Resolution with CCD Camera:

Charge Coupled Devices or CCD cameras have gained prominence in recent years to capture still and moving images, accurately capturing target location and movement. Since they provide enhanced picture quality and decreased noise, they are expected to witness substantial growth over the forecast period. In this regard, the LITENING Advanced Targeting (AT) , a precision targeting pod, includes a CCD-TV camera to gain target images in the electromagnetic spectrum's visible section.

The growing deployment of unmanned vehicles has also accelerated the adoption of CCD cameras. For example, the Star SAFIRE 380-HDc by Teledyne FLIR features a high-definition CCD camera with a digital inertial measuring unit and GPS for target geo-location abilities.

Precision with Video Datalinks:

Video datalinks play a pivotal role in enhancing the functionality of targeting pods, offering reliable means to transmit real-time data from aircraft to ground stations. In this regard, Lockheed Martin's two-way video data link for the Sniper Advanced Targeting Pod enables forward deploying forces to acquire the live footage of Sniper, enabling analysis of uplinked tactical video. The video data link is customizable due to the modular configuration of the pod.

Further, Northrop Grumman Corporation's LITENING Advanced Targeting (AT) was selected to replace the legacy targeting pods in the US Navy's fleet. In a press release, James Conroy, Northrop Grumman's Vice President of navigation, targeting, and survivability, said, "The pod's digital video, autonomous target tracking, and laser sensors will give Naval aviators an entirely new set of capabilities for operations over land and sea today, and the growth capabilities built into LITENING's modular design ensure that the pod can evolve to meet changing requirements." Such strategic steps and technological developments thus boost the North American targeting pods market, spearheaded by the US.
Laser-Infused Pods Grants Tactical Advantage
Laser and infrared are presently widely opted systems over radar as they are less readily detectable by enemies, enabling efficient target detection and attack. Among these, lasers are gaining significant focus for aerial weaponry due to their precise range data compared to other systems. In this scenario, every division of the US armed forces has created its niche for laser technologies, ranging from laser designators to laser spot trackers. The Lockheed Martin AN/AAS-38 Nite Hawk consists of a laser designator and tracker with laser-guided munitions.
Precision-guided ammunitions enable accuracy in striking targets as well as decrease casualties and weapons' wastage. Hence, integrating laser technology to improve warfare techniques and enable precision strikes is probable to widen the global targeting pods market scope over the forecast period.


FAQs:
Q1) Which are the notable companies in the targeting pods market?
Thales Group, Lockheed Martin Corporation, Northrop Grumman, and FLIR Systems are some notable companies in the targeting pods market.
Q2) What factors drive the targeting pods market's growth?
Factors such as growing demand for aircraft modernization, increasing government military expenditure, and border disputes drive the targeting pods market's growth.