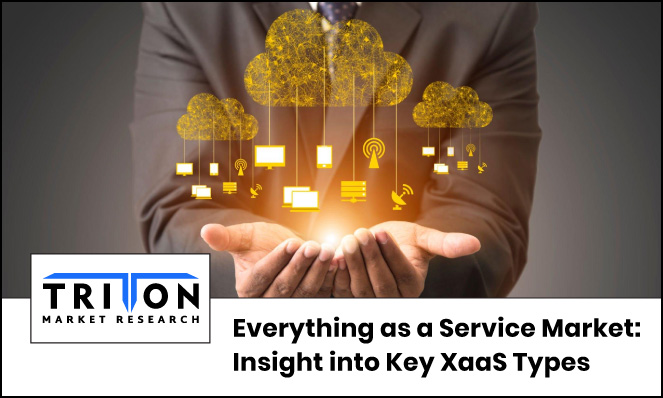 The emergence of cloud has transcended connectivity expectations since its inception, gaining popularity across IT, BFSI, and government sectors. As per a recent Google Cloud Survey, around 41.4% of enterprises plan to surge investments in cloud-based services in 2023 to build resilience during economic uncertainty. However, every cloud user has specific requirements that can be met by innovation in the infrastructure. In this regard, XaaS or anything as a service model, combines various IT tools that enable enterprises to attain agility and automation. Triton's estimates suggest that the global everything as a service (XaaS) market is set to reap $2610.98 billion by 2030, growing at a CAGR of 20.94% during the forecast period 2023-2030.
The central rationale behind XaaS service is to enable companies to decrease costs and streamline operations via a subscription-based internet-based model. The deployment of this computational service has multiplied across sectors, with many players offering software-as-a-service, infrastructure-as-a-service, and other XaaS types. For instance, Cisco and Telenor extended their partnership to explore XaaS flexible and scalable models to attain a wider partner ecosystem and customer base.
XaaS: A Paradigm Shift from On-Premise to Cloud
With a rising focus on reducing IT process costs, the demand for cloud migration and computing services has accelerated in recent years. For instance, as per industry sources, the shift from in-house data center facilities to public cloud service helps businesses save around 40%-50% of running expenses on average. The growing volume of data requiring real-time monitoring has elevated demand for various XaaS deployment models.
Some of the key types supporting market growth include:
Software as a service:

SaaS leads the type segment, attaining revenue worth $177.37 billion in 2022. In recent years, the demand for this service soared three-fold and is anticipated to witness perpetual growth with rising SaaS integration in IT infrastructures. For instance, on March 21, 2023, Snow Software unveiled a new version of its SaaS management solution to support IT companies in managing surprise costs, mitigating compliance risks, and optimizing overall expenses. Additionally, the model offers flexibility by allowing real-time collaboration. Dropbox, Google GSuite, and Cisco Webex are some widely opted SaaS models.

Also, its ability to efficiently deliver services over the network at a lower cost has prompted adoption by government bodies. The pay-as-you-go setup has enabled governments to partner with companies like Google, Microsoft, IBM, etc., to ease maintenance burden and streamline operations. For example, the Government of New Zealand partnered with Microsoft to launch a SaaS initiative to enable companies to overcome traditional business challenges. Such developments are expected to fuel the government category's growth in terms of vertical at a CAGR of 22.11% during 2023-2030.

Infrastructure-as-a-service:

The IaaS module is expected to witness the fastest growth over the forecast period, rising at a CAGR of 21.80%. The robust deployment is mainly because of the model's ability to prevent the high costs and complexity of procuring and operating real servers and data center equipment. Azure, in this regard, helps companies manage the infrastructure while they attain, install, configure, and maintain software like middleware.

Further, the rise in cloud adoption across SMEs has widened the market's growth. Our analysis suggests that nearly 69% of small businesses utilize cloud-based software regularly in Canada. Companies like Hootsuite, Shopify, and FreshBooks have further surged the use of XaaS services in the region. Digitalization trends like the rising adoption of mobile applications have compelled various companies to seek scalable solutions, a key driving factor for the North America everything as a service market.

Platform-as-a-service:

PaaS is a widely opted computing approach as it hosts hardware and software that eliminates the need to install in-house gear and software to create a new application. Compared to an on-premise option, the PaaS infrastructure provides enterprises with substantial cost benefits. Besides this, the emergence of corporate PaaS, which overcomes the complexities of basic PaaS infrastructure, is projected to boost the segment's growth.

As enterprises seek to standardize operations via data-driven technologies, PaaS is expected to witness substantial demand across end-user sectors, especially IT and telecommunication. For example, recently, Dell Partnered with PaaS provider Expeto and mobile networking equipment vendors Athonet and Airspan to enable integrated connectivity across public and private 5G and LTE networks. Given the rise in such collaborations, the IT and telecommunication vertical is anticipated to witness the fastest growth at 22.48% of CAGR from 2023 to 2030.
While the above-mentioned infrastructures are widely opted across verticals, the rising popularity of analytics and IoT is expected to widen the market scope for other as-a-service infrastructures, including analytics-as-a-service and device-as-a-serve.
Remote Trends pave the way for XaaS Uptake
The pandemic-induced remote working culture transformed operations across industries, including healthcare. Remote healthcare services have accelerated the desire for cloud technologies for monitoring, diagnostics, consultation, etc. As healthcare becomes more patient-centric and data-driven, various market players are leveraging the scalability of XaaS to access and share electronic health records. Besides, the rising adoption of wearable devices, big data, and IoT in the healthcare sector is expected to elevate XaaS solutions' deployment, creating novel opportunities for the everything as a service (XaaS) market.


FAQs:
Q1) Which are the key verticals using XaaS solutions?
IT & telecommunication, healthcare, BFSI, and government are among the key verticals using XaaS solutions.
Q2) Who are the major players in everything in the service (XaaS) market?
Microsoft Corporation, Adobe Systems, Tata Consultancy Services, Alibaba Group Holding Ltd, Microsoft Corporation, Oracle Corporation, SAP SE, Amazon.Com Inc, Salesforce Inc, Cisco Systems Inc, and VMware are major players in the everything as a service market.