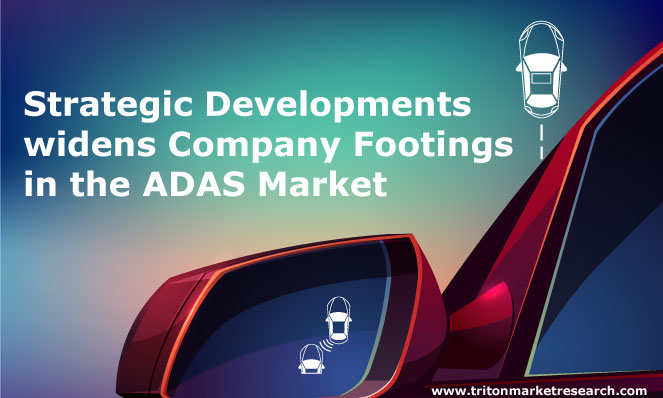 In the fast-paced technological world, advanced driver assistance systems (ADAS) are bridging the gap between conventional vehicles and the cars of the future. It is quite evident that the automotive sector is gradually up-taking complex tasks, focusing on passengers' safety and concern of accident rates.
Our study estimates the ADAS market to generate a CAGR of 19.46% over the forecast period 2019-2027. Furthermore, several activities are undertaken by market players, which suggests that the market is likely to be dominated by autonomous and electric vehicles in the future.
Competitive Outlook
Presently, numerous original equipment manufacturers (OEMs) are integrating ADAS in their vehicles to widen their footings in the market. For instance, Nissan has collaborated with Bosch to offer low-cost innovative systems for its mid-segment cars. Besides, several prominent companies, such as Audi, BMW, and Mercedes, are investing the majority of their revenue on R&D to advance the connectivity and user interface of ADAS.
Factors Supporting Player Positioning
Technological Innovations:
The integration of AI, machine learning, and big data in these smart systems have emerged as a significant breakthrough in the ADAS market. For instance, recently, ZF Group announced its plan to introduce a new scalable data and AI-based services suite, in collaboration with Cognata, called ADAS.ai. This will assist OEMs in accelerating the development of these systems for commercial and passenger vehicles.
"ZF's vision enables full ADAS virtual engineering for ADAS from all Tier I suppliers. OEMs want ADAS attributes to be like Crash Testing – fully validated digitally before the first prototype is built, and ZF has the technology to make this happen," said Christophe Marnat, Executive Vice President, Electronics and Advanced Driver Assist Systems Division, in a press release.
Product Deployment/Strategic Initiatives:
Given the benefits offered by ADAS, several globally renowned companies are continuously working to enhance their LiDAR technology, along with other initiatives to widen their market share. To illustrate, Velodyne LiDAR recently stated its plan to partner with Mothers Against Drunk Driving (MADD) to introduce awareness campaigns to build public acceptance of autonomous technology, eliminating driving collisions.
Another noteworthy step taken by companies includes Quanenergy's deployment of 3D LiDAR solutions in Busan's ICT system. This initiative by the company in collaboration with iCent is said to play a major role in developing smart cities in South Korea. In a press release, the CEO of iCent, Moon, WonSang, stated, "Quanergy's LiDAR solution provided greater than 95% accuracy and reliable performance in all ambient conditions, day or night."
Government Regulations:
While numerous OEMs strive to sustain by innovating their technological offerings, governments in various developing and developed economies are validating ADAS adoption through regulations. For instance, the European Commission approved the revised General Safety Regulation that commands the adoption of advanced vehicle safety features. Moreover, they need to be implemented in all new models from July 2022.
Another point worth noting is the immense focus of market players on developing driverless cars. Self-driving vehicles are anticipated to reform the mobility patterns, along with lowering fuel, insurance, and labor costs. As a result, the need for automatic braking, radar, LiDAR, sensors, and other ADAS technologies are gaining momentum, compelling companies to fast-track their R&D activities.
What's More,:
The combination of various sensor types can develop redundant monitoring systems wherein multiple sensors will offer the same features to authenticate data despite the road conditions. On the whole, such enhancements will efficiently track vehicular movement, generating new opportunities for OEMs.