Widening End Applications Promise a Future to the Global Battery Market
Energy, Power & Utilities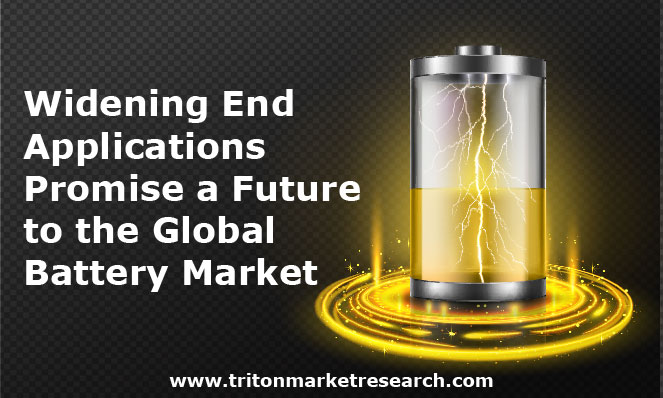 Battery technology has been evolving continuously, maintaining its relevance over the years. Thanks to rapid technological advancements, batteries have broadened their application horizons in several industries. The global market is likely to boom, owing to their soaring demand. Based on our study, the global battery market will evolve with a CAGR of 6.91% during 2019-2027.
In light of the rising demand for uninterrupted power supply, the intervention of battery technology is projected to have far-reaching implications on different markets. Among all, below are the three major segments where battery adoption can be witnessed on a large scale:
Automotive:
In terms of application, the battery market is mainly dominated by this segment. And keeping an eye on the future, automakers are investing huge sums for manufacturing electric vehicles. Lead-acid, lithium-ion, and nickel-metal hydride batteries are primarily used for powering vehicles.
In 2016, the United States Department of Energy (DoE) granted a funding of $32.5 million to East Penn Manufacturing Company to expand its production capabilities for developing advanced lead-acid batteries. Further, looking at the growing EV demand in Japan, Nissan Motor Co and Honda Motor Co are focusing on developing next-generation batteries, which can reduce charging time and enhance the range of green cars.
Portable:
The large number of consumer electronic products that rely on portable, rechargeable batteries has increased their consumption. With the growing dependence on smartphones, tablets, wearables, etc., efforts are being made to develop high energy density batteries with longer lifetimes. Companies are focusing on R&D, which has led to the emergence of more efficient and cleaner technologies. For instance, UK-based Intelligent Energy Holdings PLC develops fuel cell batteries embedded in mobile phones to improve their battery life.
Industrial:
Batteries are also used in a number of industrial applications, such as grid and off-grid energy storage systems, agricultural machinery, marine equipment & machinery, aviation, electronics, oil & gas, military & defense, civil infrastructure, and industrial automation systems. The need for heavy-duty energy storage and power backup are the key factors fueling the demand from these industries.
France-based Saft Groupe SA offers an extensive product portfolio comprising lithium-based, nickel-cadmium, and nickel-metal-hydride batteries for several of these applications. Seeing the tremendous growth potential of the APAC market, the company signed a contract with Alstom in March 2017 to supply battery backup systems for the construction of metro rail systems in India.
Future Discourse:
The battery market landscape has always been interlinked with the growth in its end-user industries. The growing number of applications is expected to evolve the technology continuously. Moreover, with the ongoing research and increasing investments, it is certain that batteries will play a much bigger role in powering our lives as we go forward.