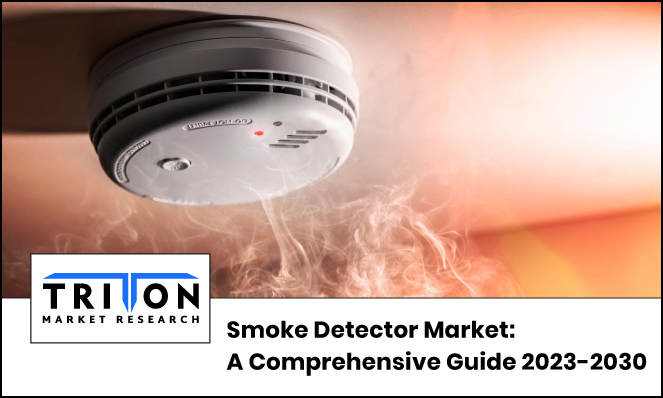 In 2021, fire safety departments across the United States responded to 1,353,500 incidents, which resulted in 3,800 deaths and 14,700 injuries, as well as $15.9 billion in property damage (source: NFPA). The pressing need to reduce their occurrence has enhanced the demand for electronic fire protection devices like smoke detectors. As a result, the global smoke detector market is estimated to grow with a CAGR of 8.53% in the forecasting period from 2023 to 2030.
Smoke detection systems sense smoke arising from a fire and alert people by sounding an alarm. Since smoke and toxic gasses spread farther and quicker than heat and fumes, installing functional smoke detectors reduces the risk of dying in a fire accident by around 50%. Their efficacy in identifying a fire outbreak at its very onset has been favorable for their adoption.
Government Efforts Back Market Expansion
With the rising fire incidents being reported worldwide, several governments have implemented laws necessitating smoke detector installation, thereby positioning the market on a growth path. For instance, in January 2020, the government of Belgium mandated the installation of smoke detectors in all private residences.
With the rapidly growing population, the demand for housing has surged in recent years. This has increased investments in the construction sector. As part of the 12th Malaysia Plan, the country's governing authority intends to construct 500,000 affordable houses by 2025. Government policies to support residential infrastructure development are also expected to favor the deployment of smoke detectors.
Residential fires account for 73% of all fire-related fatalities in Canada (source: Ontario Association of Fire Chiefs). Due to increasing fire incidents globally, developers are abiding by various safety norms documented in the International Building Code. This has expanded their adoption in the residential sector, which is expected to witness the fastest growth of 9.64% CAGR in the end-user segment over the projected period.
Smoke Detectors – Benefits Widen Cross-Sector Applicability
Apart from residential, smoke detectors are also witnessing high demand from the automotive sector. Cases of vehicles catching fire have been commonly reported, and this happens when a fuel source and an ignition source come into contact with each other. Automakers are thus increasingly incorporating smoke alarms in their products.
Recording 4.5 million automobile sales in 2022, India is now the third-largest automotive market in the world (source: Nikkei Asia). This presents a lucrative opportunity for smoke alarm manufacturers to tap into the Indian automotive sector. Moreover, the increasing number of real estate projects, along with developments in key end-user sectors like manufacturing, telecommunication, oil & gas, and others, is boosting the smoke detector market in the country.
India is anticipated to develop with the fastest CAGR of 11.99% in the Asia-Pacific smoke detector market during 2023-2030. The presence of leading market players, such as Noida-based Ceasefire Industries Pvt Ltd, also contributes to this growth. The company has an extensive portfolio of over 400 fire safety and security solutions, which comply with the highest global standards and are certified by BSI, EN3, EN1866, LPCB, PED, MED, VDS, and ISO9001.
R&D, Technology, and Innovation – Opportunities for Manufacturers to Consolidate Brand Standing
Heavy investments in research and development are helping manufacturers in the studied market to expand their portfolio with undifferentiated and technologically advanced products. Siemens AG, which holds 43,400 patents, spent $6.06 billion in annual R&D expenses in 2022.
Consistent consumer-centric R&D efforts have helped the company develop one of its top-selling products, the FDOOT221 multi-sensor smoke detector/. Multi-sensor technology is gaining popularity as its advanced detection capabilities reduce the instances of false alarms and detect fire faster, thus providing people with more time to evacuate.
Manufacturers of smoke detectors have also embraced smart technologies, such as AI, robotic process automation, and IoT. Smart smoke detectors issue warning messages to the owners' smartphones, wearables, and home security systems, thus alerting them in case of a fire outbreak, even when they are far away. The camera attached to these smart detectors records the footage of the event to help investigators assess the cause of the fire.
Google's Nest Protect smoke and CO alarm is enabled with motion sensor technology and can detect both slow- and fast-burning fires. It is available in hardwired as well as battery-powered versions, and seamlessly interconnects with other Protect devices. Efforts towards R&D, staying abreast of evolving consumer demands & industry standards, and focus on technology & innovation, in order to deliver such advanced products will thus help players in the smoke detector market expand their footing worldwide.


FAQs:
Q 1) What is the global smoke detector market size?
In 2022, the global market for smoke detector was valued at $1969.25 million, and is expected to gain $3752.56 million by 2030.
Q 2) Which are the types of smoke detectors considered in the market report?
Ionization, photoelectric, dual sensor, and other types.