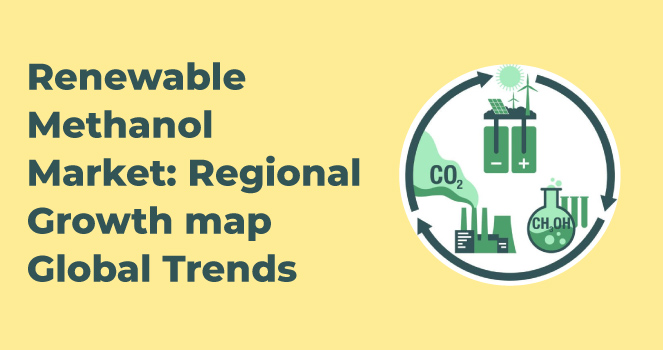 The growing need for eco-friendly energy sources worldwide has boosted the demand for renewable methanol to mitigate greenhouse gas emissions. In this regard, it bridges the gap between conventional fuel and renewable resources, widening the scope of the global renewable methanol market.
The availability of renewable methanol, stringent government regulations, and new renewable energy policies are major factors facilitating the studied market's growth. For instance, EU Emissions Trading System's renewable energy policy has revised its target to reduce at least 55% greenhouse gas emissions by 2030.
As per Triton's estimates, the global renewable methanol market is expected to advance in revenue and volume at a CAGR of 4.11% and 2.32%, respectively, during the forecast period 2022-2028.
Regional Trends Backing Global Expansion
Methanol can be derived from various conventional and renewable feedstocks, such as industrial waste and carbon dioxide. Moreover, it is considered the most cost-effective hydrogen carrier fuel. This has led Asia-Pacific and Europe to encourage renewable methanol adoption, mitigating the harmful effects of CO2.
Asia-Pacific leads with 60.66% of CAGR in terms of revenue
During the forecast period, the demand for renewable methanol as a transportation fuel is expected to soar tremendously across major nations, especially China. As a result, companies like Carbon Recycling International are expected to boost green methanol adoption in the transport sector. Additionally, leading methanol manufacturers, such as Geely Holdings and Zixin Industrial Co, have established new production facilities to promote renewable methanol production. The Chinese government also signed an agreement with Enerkem to build 100 advanced biofuels facilities by 2035. Thus, governmental support is anticipated to fuel the Asia-Pacific renewable methanol market growth.
Europe to witness the fastest growth with a CAGR of 5.03% by 2028
Europe is estimated to witness a high adoption rate of renewable methanol during the forecast period. The UK and Germany account for around 47% of the European market. Moreover, Sweden and France are expected to emerge as potential markets witnessing higher growth over the forecast period. Further, the region is expected to witness substantial growth due to the rapidly growing wind and solar sector. For instance, wind power accounted for 47.2% of Denmark's energy consumption in 2019, with around 6,230 active wind turbines.
Additionally, the Italian government signed a joint agreement with ENI, the nation's mineral oil and energy group, and Fiat Chrysler Automobile, launching a new fuel blend containing 15% methanol and 5% ethanol. These efforts will reduce CO2 emissions immensely, boosting the Europe renewable methanol market.
Segments Facilitating Global Progression
Numerous companies are surging their production or entering joint ventures to expand their global footings. This has led to a rise in renewable methanol adoption across numerous end-user sectors, including transportation and power generation. Besides this, the government investments have attracted new manufacturers to expand operations, increasing methanol application to a large extent.
Transportation dominates the end-user sector, while power generation is expected to witness the fastest growth over the forecast period.
Green methanol's role in reducing greenhouse gas emissions has elevated its demand in the transport sector. For instance, MS Innogy powered the first ship in Germany with eco-friendly methanol fuel cells. Moreover, green methanol has emerged as the primary source driving the transformation of Germany's power sector.
Formaldehyde led the application segment with a CAGR of 25.92% in 2021.
Methanol is a key ingredient used to produce formaldehyde that is further employed across numerous industries, including textile and automobile. The Asia-Pacific accounts for around 60% of the total global formaldehyde consumption, with China being the leader. For example, Lotus announced establishing a car manufacturing unit in China, fuelling the demand for formaldehyde. Hence, such high demand is anticipated to heighten the need for renewable methanol tremendously in the next few years.
Concluding Deliberations
Along with the transportation sector, renewable methanol has also witnessed significant demand in the marine industry. This has led prominent companies like MAN and Wartsila to boost research activities supporting renewable methanol applications. Besides this, the rising role of green methanol in reducing CO2 emissions by 95% has diversified its application across industries. Hence, in retrospect, the growing demand for sustainable resources is anticipated to boost the global renewable methanol market on a growth path.
FAQs
Q1) What major factors augment the renewable methanol market's growth?
The availability of renewable methanol and stringent government regulations are major factors that augment the renewable methanol market's growth.
Q2) Why is renewable methanol an ideal alternative to traditional fuel?
Renewable methanol helps decrease carbon dioxide emissions by 95% and nitrogen oxide emissions up to 80%, making it an ideal alternative to traditional fuel.
Q3) What is the size of the renewable methanol market?
The global renewable methanol market is expected to garner $4296.33 million by 2028. In 2021, the market attained $3352.96 million.