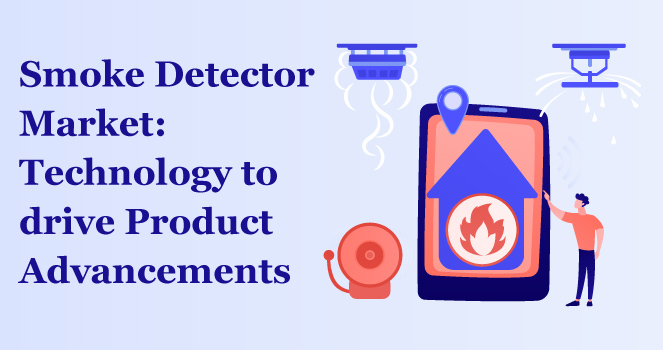 The prevalence of fire accidents has risen all over the world, resulting in thousands of deaths every year. As a result, the need for implementing effective fire safety measures has escalated. A smoke detector is an electronic fire-protection device that identifies smoke as an indication of fire and rings an alarm to alert the occupants. As per the National Fire Protection Agency's estimates, installing smoke detectors at home cuts down the risk of dying in a fire accident by around 50%.
Based on our study, the global smoke detector market is estimated to advance at a CAGR of 8.10% over the forecasting period from 2022 to 2028. Their efficacy in identifying a fire outbreak at its very onset has been favorable for the market's growth. In the global scenario, North America accounted for the largest share in 2021, owing to the presence of leading companies contributing to the regional market's growth. However, the high cost of these detectors deters their adoption, in turn, hampering the growth process.
Smoke Detector: Market Scope & Analysis
Smoke detection technology has evolved significantly, and several governments worldwide have implemented laws necessitating smoke detector installation, thereby positioning the market on a growth path.
Growing Awareness about Smoke Detectors' Benefits & their Product Type
Statistics indicate that almost 3 out of every 5 home fire deaths take place in houses with no smoke alarm installed. Dual sensor, ionization, photoelectric (optical), and aspirating smoke detectors (ASDs) are some of the common types of smoke detection devices.
Photoelectric leads the product type segment and is expected to continue its stronghold.
Several fire organizations and standards, such as the British Standard 5839-6, recommend the use of photoelectric smoke alarms. With their high efficiency, they have emerged as the most accurate, safe, and dependable type of smoke detectors. As per our estimates, the segment generated the largest revenue share from the North America region.
Rising Infrastructure Development Projects, especially in the Residential segment
With the rapidly growing population, the demand for housing has surged in recent years. This has increased investments in the construction sector. As a result, the residential segment is expected to witness the fastest growth in the end-user category over the projected period.
Residential fires account for 73% of all fire-related fatalities in the country, as per the Ontario Association of Fire Chiefs. Thus, with the increasing fire incidents globally, developers are abiding by various fire safety norms documented in the International Building Code. In Canada, regulations require smoke alarms to be installed in all new dwelling units, sleeping rooms, and on each floor.
Technological Advancements: Key Opportunity
As with numerous other devices, smoke detectors' leap into smart technology has also been inevitable. Smart smoke detectors, which are incorporated with advanced technologies such as AI, robotic process automation, IoT, etc., are increasingly being deployed across diverse sectors. Further, multi-sensor smoke detection systems have also been developed, which use dual and quad sensors to reduce false alarms. Besides, laser smoke detectors, which can detect smoke earlier than traditional detectors, are also gaining popularity. With enhanced R&D and investments to build more such advanced products, the smoke detector market is poised for growth.
Hardwired smoke detectors account for the largest revenue in the power source segment at $1249.12 million in 2021.
As hardwired smoke detectors are connected directly to a single AC electrical circuit, all the alarms sound when even one is triggered. Thus, the interconnectedness offered by these detectors adds an extra layer of security, making them ideal for apartment buildings, multi-level homes, and commercial structures. Hardwired detectors are increasingly being required, in compliance with local codes for new construction. Carrier Global's Kidde i12010S is one of the top-performing products in this category.
Strategic Moves facilitate Companies' Global Expansion
Well-established names, such as Honeywell International, Johnson Controls International, Google Nest, and Hochiki Corporation, among others, dominate the global market. The bigger corporations are acquiring smaller players with a view to capture new markets. In October 2021, Carrier Global Corporation acquired Cavius, a Denmark-based residential smoke alarm manufacturer.
Such acquisitions also help newer players gain a foothold in the market by eliminating several entry barriers. For example, Xiaomi and Honeywell International jointly developed the Xiaomi Smoke Detector, a product with 5 years of battery life, in April 2021. Moreover, heavy investments in research and development also remain a top strategy for growth. This helps companies expand their portfolio with undifferentiated, technologically advanced products, and cater to customers all across the globe.
FAQs:
Q 1) Which region is expected to grow the fastest in the smoke detector market?
The Asia-Pacific is expected to grow with the highest CAGR in the global market.


Q 2) What is the revenue estimation for the smoke detector market?
The global smoke detector market is expected to gain $2783.82 million in revenue by 2028.