BIPV Market: Trends Supplement Large-Scale Solar Systems Adoption
Energy, Power & Utilities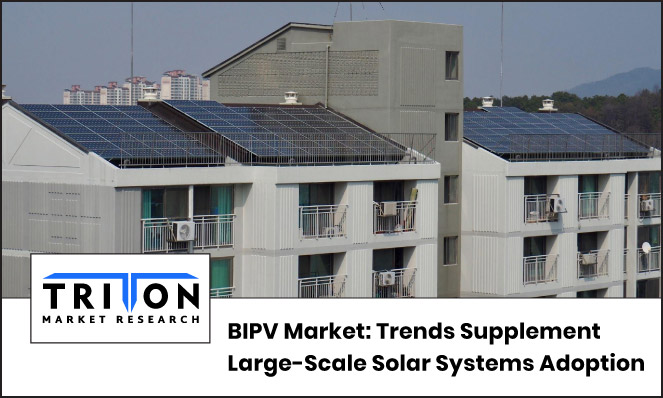 As per the International Energy Outlook, the global power demand is expected to rise by 80%, requiring an investment of around $19.7 trillion by 2040. Also, the Paris Agreement set a target of limiting global warming temperature below 2° Celsius, preferably 1.5° Celsius. This has influenced governments to seek innovative ways to reduce emissions while meeting energy demand, which has paved the way for photovoltaic materials in buildings. Triton's analysis estimates that the global building integrated photovoltaics market will propel at a CAGR of 17.31% during the forecast period 2023-2030.
Building integrated photovoltaics serves the dual purpose of being the outer layer of a building and a power generator. This, in turn, has opened a new frontier in green infrastructure, influencing architects to develop energy-efficient and aesthetically appealing buildings. For instance, Ubiquitous Energy's transparent solar window panels, UE Power, have emerged as an aesthetically appealing power-generating alternative to conventional windows.
BIPV Revolution: Trends Reshape Energy Landscape
According to the International Renewable Energy Agency (IRENA) , around 90% of the world's power can be generated with renewable energy by 2050. Since buildings consume high amounts of energy, BIPV integration will facilitate their transition from energy users to producers. On that note, the notable trends reshaping the market are:
Governments Shine Light on PV Benefits

Governments perceive investing in green energy solutions as an opportunity to attain GHG reduction targets. Hence, over the past few years, authorities worldwide have employed various measures to stimulate the adoption of sustainable technologies, including BIPV modules, across residential, commercial, and industrial sectors. For example:
As per the Indian Ministry of New & Renewable Energy (MNRE) , the government has implemented the production-linked incentive (PLI) scheme for high-efficiency solar PV modules with an outlay of INR 24,000 crore, to achieve domestic manufacturing capacity of solar PV cells and modules.

In 2021, the German government amended the Renewable Energy Act by establishing grid priority to drive the onshore wind, solar PV, and biogas growth. The government proposed to increase its solar capacity installations to 100 GW by 2030.

The Chinese government also formulated a policy that requires all new buildings to conform to energy guidelines modeled after LEED specifications. This policy combines a recent initiative to reconstruct 50% of residential high-rise buildings. The country is anticipated to add more than 600 GW of solar power by 2030.
Reaping the benefits from such incentives, the industrial sector leads the BIPV market at 39.54%. However, over the forecast period 2023-2030, the commercial sector is expected to witness the fastest growth at 17.38%.
Rooftop Solar Systems Widens Scope
As per IEA, the global solar PV generation reached around 821 TWh in 2020, a whopping 23% increase from 2019. The energy association also stated that next to utility-scale deployment, distributed applications on buildings contribute to around 40% of PV use globally. In this regard, rooftop-based applications are alleviating the burden on the distribution grids, enabling companies and households to pay lesser energy bills while reducing emissions. Moreover, the cost of installing rooftop PV systems reached around $1 per watt. Hence, roofing captures the majority of the market share at 55.69% in terms of application.
China drives the global market, followed by the US, European nations, and Japan playing a major role. The rise in installations from around 19.4 GW in 2017 to 27.3 GW in 2021 was the key aspect that made China a leader in rooftop installations. For instance, Shanghai and Dezhou have acquired the title of 'Solar City', which features a large fleet of rooftop solar water heaters. Besides, the Net Zero Energy Building mandate across China is expected to accelerate the PV roofing segment, with solar tiles gaining major traction. Hence, these developments are expected to widen the scope of the Asia-Pacific BIPV market over the forecast period 2023-2030.
Solar Systems Fulfill Sustainable Energy Needs
IEA projects that photovoltaic systems are estimated to account for approximately 14% of the total power generation by 2050, owing to the rising detrimental impact of fossil fuels. In fact, the organization stated that PV systems saved more than 860 million tons of C02 in 2020. The construction industry is highly innovative in the commercial sector owing to the development of cost-effective zero-emission green facilities.
As per IRENA, Germany ranks fourth in solar energy production globally. In 2021, the nation installed solar capacities of almost 60 GW, an increase of 5.3 GW from 2020. These actions are based on the country's aim to obtain a 65% share of the renewable energy sector by 2030. Moreover, the Energy Efficiency Strategy for Building suggested advanced technology development to achieve the goal of a virtually climate-neutral building stock by 2050. Hence, the growing focus on sustainable energy sources fuels the overall Europe BIPV market, spearheaded mainly by Germany.
PV Cost Reduction: A Driving Force for Market Players
Since photovoltaic systems generate energy with around 42% efficiency using multi-junction cells, they have emerged as an ideal alternative over complex installations, such as wind turbines. As per the UN, between 2010 to 2020, the cost of power from solar systems plummeted by around 85%. This highlights the question:
What induced PV cost reduction?
The significant cost decline is mainly because of overproduction and higher investment in PV modules. Another factor is the efforts by Chinese suppliers and wholesalers to reduce the stock held in European warehouses to prevent anti-dumping and anti-subsidy tariffs. This oversupply, from China to Europe thus shrunk the cost of silicon. Such developments led energy solutions supplier Sungrow to supply products to the world's largest BIPV plant (120 MW) in Central China's Jiangxi Province. Therefore, the increasing efficiency, ease of installation, and decreasing cost of PV modules over conventional sources like coal and natural gas are expected to open new avenues for players in the building integrated photovoltaics market.


FAQs:
Q1) What is the size of the building integrated photovoltaics market?
The building integrated photovoltaics market attained $12.52 billion in 2022 and is expected to reap revenue worth $42.97 billion by 2030.
Q2) Which are the major industry verticals in the BIPV market?
Residential, commercial, and industrial are key industry verticals in the BIPV market.