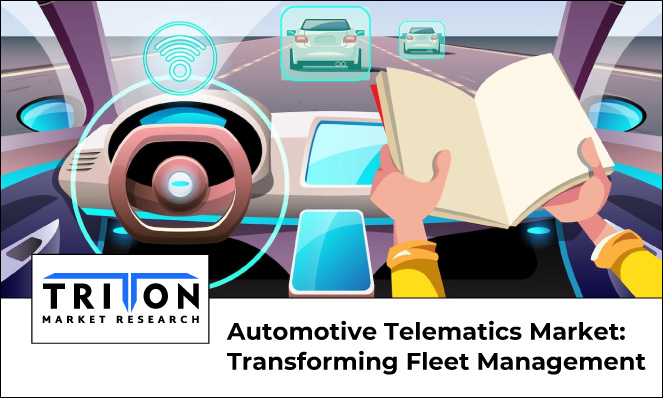 As per the European Automobile Manufacturers Association, around 79.1 million motor vehicles were produced globally in 2021. Also, logistics services have witnessed substantial growth globally, spearheaded by the e-commerce industry. These developments have paved the path for telematics solutions, especially in fleet management, offering real-time data on driving styles and vehicular movement. According to Triton's estimates, the global automotive telematics market is set to garner $435.88 billion by 2030, progressing with a CAGR of 16.06% during the forecast years 2023-2030.
With the integration of sensors and cameras, vehicles have emerged as mobile data centers generating a high volume of data. From documenting in-vehicle infotainment choices to navigation routes, telematics has redefined the automotive industry since its inception. And the advent of smart city initiatives has fueled smart mobility programs for real-time traffic management, systematic emission control, and predictive parking systems.
Automotive Telematics: A One-Stop Solution for Fleet Management
With surged competition and growing cost pressures, fleet managers and proprietors require data insights to streamline operations. In this regard, telematics fleet systems significantly help reduce fuel costs (almost 10%) while also decreasing downtime with preventive maintenance. Here, onboard diagnostics-based telematics offers well-timed system alerts by capturing the vehicle's location, speed, mileage, etc. Triton's analysis portrays that fleet or asset management leads the studied market in terms of application with 34.78% in 2022, closely followed by safety & security.
Moreover, with the rise of software-as-a-service (SaaS), telematics systems have gained popularity among small businesses to optimize their fleet with features like route planning to maintenance scheduling. Several small as well as large fleet owners are opting for two-wheelers integrated with vehicle telematics due to affordability and convenience. Our research indicates that the two-wheeler category is predicted to witness the fastest growth at a CAGR of 18.38% during the forecast period 2023-2030 in the vehicle segment, surpassing passenger and commercial categories.
Embedded telematics type, expected to observe the fastest growth at CAGR 15.58%, is another trend that has upgraded fleet operations. This system provides autonomous driver assistance, GPS-based navigation, emergency solutions, etc., enabling vehicles to transmit stored data via the internet. For instance, in Feb 2023, Wejo announced partnering with Mercedes-Benz Connectivity Services to offer customized connected vehicle data to participating cloud-connected fleet vehicles in Europe. This will enable fleet managers to utilize data straight from embedded OEM hardware and support fleet services.
In a press release, Benoit Joly, Chief Commercial Officer at Wejo, said, "With Mercedes-Benz Connectivity Services, we can deliver TSPs and FMS companies more data-driven, enhanced fleet management insights for their fleet customers and help improve safety and drive efficiencies on the roadways."
China: An emerging leader in the Asia-Pacific market
China continues to host the world's largest vehicle market in terms of annual sales and manufacturing output. In recent years, third-party logistics providers have surged their long-term capacity and digital capabilities. In this regard, the establishment of China Logistics Group, a merger of five-stated owned companies, redefined the logistics industry operations, creating a high demand for advanced solutions like telematics to mitigate risks associated with freight movement. Such developments are thus likely to drive the Asia-Pacific automotive telematics market with a CAGR of 17.11% during 2023-2030.
Connectivity Demand Drives Strategic Contributions
Competition among players differs in terms of price, data security, and product quality. The race to provide a broad application of telematics to customers has resulted in various strategic steps, from partnerships to launches.
Listed below are some of the latest steps by players to expand their footing:
In February 2023, Qualcomm introduced Snapdragon Auto 5G Modern-RF Gen 2 at Mobile World Congress, adding to its growing Snapdragon Digital Chassis connected car portfolio.

In January 2023, Uplight partnered with Rolling Energy Resources (RER) to develop an EV grid edge solution to manage grid load with the help of telematics.

Also, in January 2023, Lighting eMotors launched the 'Fleet Planner' to enable managers to receive a customized operating cost analysis and carbon reduction metrics.

Walmart, in July 2022, collaborated with Platform Science to equip the retailer's truck fleet with telematics devices.
Technological Advancements Prompt Growth Opportunities for OEMs
Rapid innovation in telematics and interface design enables better driving experiences while benefiting the entire automotive ecosystem. In this regard, telematics systems integrated with cutting-edge technologies like AI, machine learning, and voice assistance assist OEMs in significantly reducing costs and cycle times in the latest models. These steps to differentiate product lines hold the potential to widen the scope of the smart fleet management market. Aligning with this, the rising technological advancements to shorten production time via real-time performance statistics of vital components creates opportunities for the automotive telematics market.
FAQ:
Q1) What is the size of the automotive telematics market?
In 2022, the global automotive telematics market obtained revenue worth $121.12 billion and is expected to reap $435.88 billion by 2030.
Q2) Which are the key types integrated into telematics devices?
Embedded, integrated smartphones, and tethered are key types integrated into telematics devices.