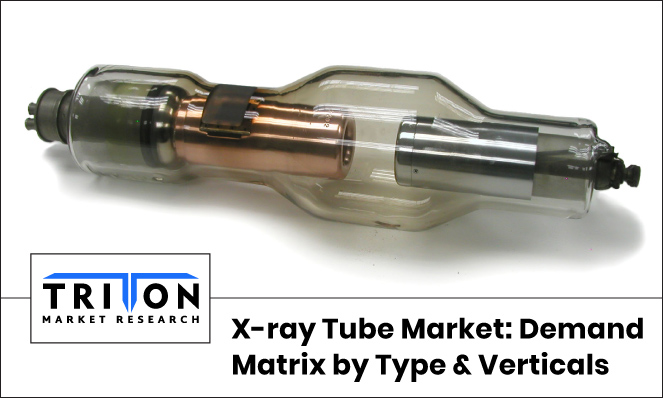 As per WHO, noncommunicable diseases result in the death of around 41 million individuals yearly, equivalent to about 74% of the population worldwide. Moreover, estimates indicate around 40 million are severely injured in road accidents globally. Given this, the public health agency states detection and screening to be vital in the treatment process, making X-ray systems the most sought-after technology. Hence, the rise in medical incidences demanding these systems for diagnostic purposes has widened the scope of the global X-ray tube market.
Quality control, on the other hand, has made X-ray testing a major part of the manufacturing sector. This is mainly to monitor and control production facilities, reducing overall waste and corporate risk of faulty products. Moreover, X-ray radiation ensures Six Sigma quality assurance, further elevating X-ray tube integration in screening systems. Our estimates infer the global market to advance at a CAGR of 4.57% during the forecast period 2022-2028.
X-ray Technology Streamlines Industrial Operations
The United States is leading the North America X-ray tube market with a CAGR of 92.23% in 2021. X-ray systems have gained eminence in automotive manufacturing to detect faults and avoid high recall expenses. For instance, General Motors faced the recall of faulty ignition switches, which cost around $2.5 billion in penalties and settlements, including a $900 millionsettlement for a US Department of Justice criminal case.
X-ray systems are also extensively integrated across nuclear power utilities due to the increased need for NDT (non-destructive testing) and quality assurance in the aerospace and defense industry. As per estimates, the aerospace and defense category is set to witness the fastest growth over the forecast period. This trend has led Micro-X and Thales Group to introduce digital image processing systems to streamline defense operations.
However, regulations like the FDA's Center for Devices and Radiological Health on medical devices' manufacturing increased production and raw material costs, alongside testing time. As a result, the high-demand regions, such as Asia-Pacific and North America, are expected to revise safety regulations, which may hinder the studied market progression.
Market Progression Backed by Key Components
Ceramic Envelopes have gained high demand mainly owing to their beneficial properties, including high power, small dimensions, and low weight. Companies such as YXLON International and Comet Group have heavily invested in metal-ceramic tube technology to prevent electrical arcing, increasing the tube's life. As a result, manufacturers are integrating these envelopes to offer X-ray generators higher portability and operability in the social infrastructure and aerospace & defense industries.

A cathode is a critical component that helps the tube emit more electrons, providing a brighter X-ray source, beneficial especially in the healthcare sector. Estimates suggest X-ray tube technology to observe several developments, with players increasingly developing new cathode solutions to mitigate heat generation. For example, Nanox manufactured a 5D non-CNT MEMs-based digital cold cathode X-ray source with a stationary anode to generate an electron stream using 100 million Nano-cones. What's more, Meindensha Corporation launched a cold cathode X-ray tube to downsize the inspection system, offering power-saving benefits.

As a positive terminal, the anode plays a crucial role in converting incident electrons' energy into X-rays, dissipating heat. There are two types of anode: rotating and stationary. Among these, the rotating anode captures the majority of the share in the type segment at a CAGR of 4.24%. These tubes are widely employed in high-resolution devices, such as CT scans and mammography. Besides this, rotating anodes have gained traction for radiography applications to select a higher electric load without the risk of overheating. Rapid technological advancements have further surged demand for portable and water-cooled rotating-anode tubes in various industries, ultimately surging market competition.

Protective housing, a stainless-steel component, has gained immense traction for application during radiation to provide stable mechanical support. It acts as an electrical insulator, preventing electrical shock and excessive radiation exposure. Such benefits influenced Siemens Healthineers to unveil the Multix Impact C, a ceiling-mounted digital radiography system, to ensure easy patient access. Such steps have accelerated the X-ray tube market's growth globally.
Opportunistic Technology Interference
In recent years, technological innovations have facilitated the manufacturing of high-power portable X-rays. Its introduction has helped patients avoid potentially hazardous hospital trips and easily undergo clinical procedures. Another development, such as 3D color X-rays of the body, have shown promising results in detecting cancer, bone, and vascular diseases. Hence, the healthcare sector, backed by technological expansion, will prove to create lucrative opportunities for the X-ray tube market in the coming future.


FAQs:

Q1) What is the size of the X-ray tube market?
In 2021, the X-ray tube market garnered $2521.56 million and is expected to attain revenue worth $3470.77 million by 2028.
Q2) In which industries are X-ray tubes used?
Automotive, manufacturing, healthcare, and aerospace & defense are major industries employing X-ray tubes.
Image Source: bit.ly/3EEifWj