What's Trending in the Portable Power Station Market?
Energy, Power & Utilities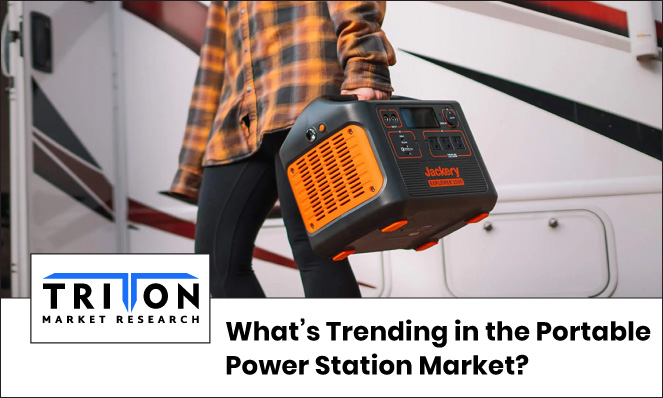 The global portable power station market is expected to witness growth due to rising power consumption. Modern lifestyles and the rising usage of consumer devices have significantly increased the dependence on power, due to which, cases of outage largely impact communities worldwide. While this largely holds true for rural areas of developing countries, even a developed nation like the United States faced record-breaking power outages in 2020, according to the Energy Information Administration (EIA).
During such emergencies, a portable power station is pivotal for keeping important gadgets, such as medical equipment, smartphones, laptops, and other electronic appliances, charged and operational. Many power stations are equipped with both regular AC outlets and USB ports, which enables charging multiple devices at the same time. Besides, they are available in a compact size, which has further increased their demand.
Our experts at Triton Market Research estimate the global portable power station market to advance with a CAGR of 5.6% in the forecast years 2022-2028.
Key Trends Influencing the Portable Power Station Market Growth
Growing Use of Smart Electronic Devices

A surge in the number of internet users, enhanced usage of smart devices, and increasing disposable incomes in developed economies have led to the expansion of the global smart home market. Consequently, the use of consumer electronics, such as home intercommunication systems, refrigerators, microwave ovens, personal computers, laptops, video game systems, tablets, and smartphones, as well as smart wearables, such as smartwatches and VR headsets, has grown.

These devices are now equipped with smart connectivity features and attractive interfaces to enhance user convenience, which has also drastically increased their power consumption requirements. Portable power stations are thus being increasingly adopted to ensure uninterrupted power supply to run these devices.

Rise in Outdoor and Camping Activities

Changing lifestyles and attitudes, along with a growing preference for leisure and rising recreational spending, have encouraged consumers to participate in outdoor activities. After a record 14 million caravan & camping trips in Australia in 2019, the number had dropped to 10.6 million trips by December 2020, as a post-pandemic effect. However, the caravan & camping economy massively rebounded post 2020, accounting for 12.6 million trips and $7.4 billion in traveler expenditure.

This, in turn, has spurred the use of camping equipment, such as rechargeable trekking headlights, mini-fridges, camping lamps, electric lighters, etc., which require power to function. Along with these, laptops and mobile phones are also essential to stay connected while outdoors, which calls for the use of portable power stations. Australia is one of the top camping destinations in the world, which is expected to position the Asia-Pacific portable power station market on a growth path.
Market Limitations v/s Promising Solutions
A major blockade to market growth is that the functional capabilities of portable power stations are not as extensive as those of portable diesel generators. Also, comparatively, they require charging, which is less convenient and time-intensive. Besides, the high cost of internal batteries in portable power stations makes them more expensive.
However, the use of lithium-ion batteries reduces the operational cost of portable power stations considerably, as their raw material is easily available at affordable rates across key regions like Europe, the Asia-Pacific, and North America. Moreover, they have higher charging capacity than sealed lead-acid batteries, and are hence preferred for time-sensitive applications.
For instance, Jackery Inc's Explorer 1500 is a lithium-ion battery-based portable power station known for its faster charging times. Furthermore, compared to sealed lead-acid battery-based portable power stations, Li-ion battery-based portable power stations are more efficient, easily available, easier to carry, and offer superior energy density & fire resistance. Their growing use will play a major role in driving the portable power station market.


FAQs:
Q 1) Which are the key segments covered in the market report?
The key segments in the portable power station market include battery type, capacity range, power source type, and usage type.
Q 2) Which is the key region in the global portable power station market?
North America is the leading region in the global market, which accounted for the highest revenue share in 2021 and is also expected to witness the fastest growth in the forecasted period.
Image Source: bit.ly/3U7AkjU