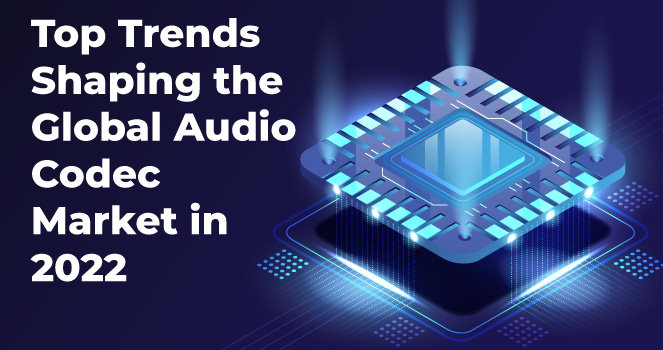 In the ever-evolving digital world, audio codecs have emerged as vital elements within sound systems and other devices. With the ability to encode or decode digital data streams, software audio codecs appear as a major solution to effectively reduce the storage space and bandwidth needed to transmit stored audio files. In this regard, Opus and Vorbis are among the widely adopted software audio codecs across industries.
The audio codec market share has strengthened significantly on account of the growing penetration of wearable devices. In the past few years, people are increasingly becoming aware of their health, encouraging the adoption of smart watches. Moreover, the rise in home workout trends amid the pandemic increased the sales of smart watches, VR headsets, and bands. As a result, the adoption of audio codecs in haptic systems of these devices has gained momentum.
Audio Codec Market | Size and Global Trends
As per estimates, the global audio codec market will generate $4242.59 million by 2028, with a CAGR of 9.27% between 2022 and 2028.
Audio codecs are trending as a major audio component across industries, including automotive and electronics. In the Asia-Pacific, market players are attaining various opportunities due to the rising investments towards commercial applications of audio codecs in multiple end-user industries. On the other hand, North America has witnessed a surge in smartphones, 5G technology, and smart home technology that have created a profitable market for audio codecs.
Considering the technological developments, the production of new-generation audio codecs has risen across developing and developed countries on a large scale. For instance, Cirrus Logic introduced a series of audio codecs, including smart, multi-channel, and portable codecs in haptic systems of tablets, headphones, wireless headsets, etc.
Take a look at key trends that widen the market scope across the globe:
Age of Mobile Gaming:

The trend of mobile gaming has made audio-video smoothening an integral part of the experience. Moreover, it has upheaved the adoption of wireless headsets that provide pristine audio quality with a noise cancellation feature. Here, the use of android as a gaming tool in laptops and other mobile devices has increased software audio codec deployment to a large extent. For instance, Snapdragon 865 5G processor in android devices uses Qualcomm Aqstic audio codec for smooth audio delivery in mobile gaming.

Growing World of Smartphones:

Estimates suggest that smartphones capture the majority of the market share. The rising industry and new marketing investments in manufacturing, brand building, and services have surged smartphone audio codecs. Hardware and software audio codecs are crucial for multiple purposes, including online streaming and audio recording. This has led smartphone companies like Sony to manufacture their audio codecs to enhance the overall performance of smartphone music systems.

Energy-Efficient Devices:

With increased compactness, sound bandwidth reduction and frequency adjustment based on device compatibility have taken center stage. For instance, Qualcomm has launched aptX lossless, which substitutes Bluetooth for wireless audio streaming in headsets, reducing overall power consumption. Another company, Synopsys, introduced the Bluetooth LE Audio LC3 Codec, enabling system-on-chip designers to effectively implement high-quality audio streaming in numerous applications, including wearables and home automation.
Strategic Initiatives by Trend-Setters:
Earlier, the advent of codecs led to optimization of size. Moreover, in 1999, the development of MP3 led to the introduction of software audio codec. Over the years, technological developments have supported the development of various software audio codecs, including FLAC, AMR, and MP4. Now, with the expansion of IoT and automation, companies are striving to innovate their offerings and acquire other players to garner a higher market share.
Major tactics undertaken by notable competitors:
In August 2021, Analog Devices Inc acquired Maxim Products Inc, making it a world leader in mixed-signal and power technologies.
Renesas, a Japan-based company, acquired Dialog Semiconductor Plc in August 2021. With this acquisition, the company increased the production of semiconductor codecs and ICs for headsets.
Qualcomm Technologies launched aptX, an audio Bluetooth codec, in September 2021. This launch helped the company deliver CD-quality over a wireless connection, enhancing the sound quality at high resolution.
On February 16, 2022, Sony announced its collaboration with AR gaming company Niantic in auditory AR for headphones. Sony aims to develop technology to enhance the gaming experience with the sound of the virtual world through headphones. Niantic owns Ingress, Pokemon GO, and Pikmin Bloom.
Wind-up
Streaming media trends are witnessing tremendous growth, with OTT platforms gaining major consumer attention. Live streaming has also grown, requiring a form of source media, such as an audio interface, to deliver content efficiently. This trend has encouraged media companies to adopt advanced audio codecs to maintain their position as leading streaming partners. For instance, Netflix deployed software audio codec offered by Fraunhofer IIS to encode an entire catalog of films, series, and documentaries in numerous languages. In retrospect, the growth of OTT platforms and the development of HD music streaming provide a wider scope to the global audio codecs market.
Frequently Asked Questions (FAQs):
1. Which are popular software audio codecs?
Opus and Vorbis are among the widely adopted software audio codecs across industries.
2. What are the advantages of software audio codecs?
With the ability to encode or decode digital data streams, software audio codecs appear as a major solution to effectively reduce the storage space and bandwidth needed to transmit stored audio files.