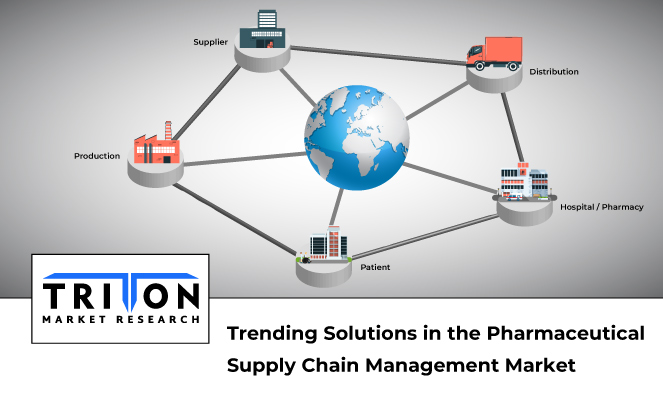 As the pharmaceutical supply chain continues to evolve and adapt, it faces new challenges and opportunities, prompting the sector to seek innovative solutions for a future of efficiency and reliability. The World Health Organization has reported that approximately 80% of the global population relies on medicines. This sheer dependence underscores the importance of establishing a streamlined and efficient supply chain that reliably delivers medicines. Our estimates indicate that the global pharmaceutical supply chain management market is projected to attain a revenue of $4203.32 million by 2030, rising at a CAGR of 8.70% during the 2023-2030 forecast period.
The escalating demand for pharmaceutical supply chain solutions can be attributed to the factors that underscore the imperative for heightened efficiency and transparency. As per the study, global pharmaceutical expenditure is expected to soar by $1.5 trillion by 2023. Notably, in 2021, China became the world's second-largest pharmaceutical market, accentuating the urgency for adept supply chain solutions. These adoptions have significantly fueled the demand for SCM, thus driving the Asia-Pacific pharmaceutical supply chain management market to experience the fastest growth in the coming years.
Pharma Supply Chain Disruptions: Potential Tech Solutions
Pharmaceutical executives cite supply chain vulnerabilities as a major factor in their susceptibility to disruption. While these risks are unavoidable, companies can target their impact by increasing visibility, implementing robust risk management strategies, and leveraging advanced technologies.
Most widely embraced pharmaceutical supply chain management solutions:
Transportation Management System
A transportation management system (TMS) is a technology-enabled logistics platform that plays a central role in helping companies efficiently and strategically plan and optimize product movement. Particularly within temperature-sensitive pharmaceuticals, TMS takes on an added dimension by seamlessly integrating temperature monitoring solutions. According to the World Health Organization, improper temperature control can result in up to 35% of vaccines being wasted worldwide yearly.
Moreover, the Drug Supply Chain Security Act (DSCSA) reinforces TMS's importance. Under the DSCSA, companies must comply with drug transportation regulations to ensure patient safety. Non-compliance can result in penalties of up to $500,000 per violation.
As Triton's analysis indicates, the pharmaceutical supply chain management market by transportation management system is expected to advance at the fastest CAGR of 8.79% over the projected years 2023-2030.
Warehouse and Inventory Management System
An effective warehouse and inventory management system is essential within the pharmaceutical supply chain, facilitating seamless medicine flow. Maintaining optimal stock levels is a delicate balancing act and a robust warehouse system that orchestrates it flawlessly. Companies like Pfizer have reported a substantial reduction in stock levels, leading to reduced holding costs and improved cash flow.
This system's benefits surpass financial gains. Minimized wastage is a significant victory for businesses and environmental preservation. According to a study, pharmaceutical waste constitutes 10% of global waste. Efficient inventory management significantly curbs this. In the United States, such implementation saved pharmaceutical firms around $8 billion annually through waste reduction.
Manufacturing Execution System
The global uptake of manufacturing execution systems (MES) is rapidly gaining momentum. This robust adoption is driven by MES's ability to streamline the entire manufacturing process, fostering seamless operations from raw material input to finished goods production.
A tangible illustration of this efficacy emerges through Johnson & Johnson, a pharmaceutical giant that strategically integrated an MES across its production facilities. This strategic move yielded a 20% reduction in manufacturing cycle time, accelerating the time-to-market for critical medications.
Strategic Collaborations among Key Players
Manhattan Associates Inc: Manhattan Associates is a pharmaceutical supply chain management software company. It partnered with global pharmaceutical firms to enhance the efficiency of their distribution networks.
Oracle Corporation: Oracle is a prominent supplier of cutting-edge technology solutions tailored for the pharmaceutical supply chain management sector. Incorporating NetSuite into Oracle's offerings bolsters operational transparency and effectiveness, streamlining manufacturing and distribution processes easily. NetSuite, a SaaS application, is a platform for comprehensive business management.
Cardinal Health Inc: In July 2017, Cardinal Health, a company specializing in healthcare products and services, finalized the purchase of Medtronic's divisions encompassing patient care, deep vein thrombosis, and nutritional insufficiency. It also partnered with Bendcare to develop a comprehensive suite of solutions, aiding rheumatology practices' financial health and success across the nation.
Conclusion
As the healthcare sector expands globally, streamlined supply chain management ensures the timely and accurate delivery of medicines to patients. Technological advancements are key in reshaping the pharmaceutical supply chain management market. In addition, sustainable practices and innovative solutions are making the sector better equipped than ever to overcome challenges and meet the evolving needs of patients worldwide.


FAQs:
Q1) Which key segments are considered in the pharmaceutical supply chain management market?
Component and deployment mode are the segments studied in the given market.
Q2) What major hurdle does the analyzed market encounter?
Technical issues with SCM software are affecting the market's growth.