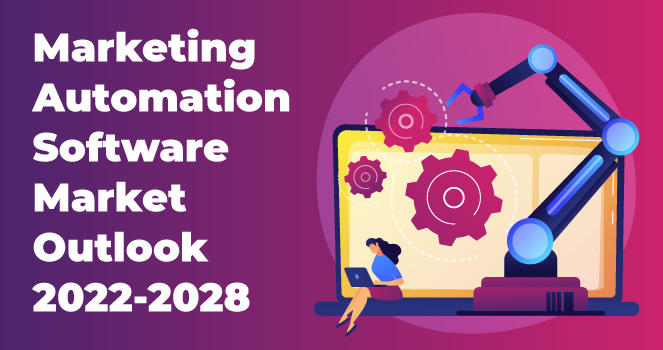 The rapid development of digital marketing across various industries has proven to improve their overall efficiency. Marketing automation is recognized as the software tools, and platforms enterprises implement to manage marketing operations effectively.
Implementation of marketing automation software benefits enterprises in making informed decisions and generates a better ROI. It also helps in building strong customer relationships, encourages lead nurturing and sales by understanding customers' needs, and boosting the demand for the product in the market.
According to our study, the global marketing automation software market is estimated to advance at a CAGR of 10.34% during the forecasted period 2022-2028. Technological advancements have escalated concerns related to privacy, security, and ownership. This has prompted the market to associate with the enterprise resource planning industry and accumulate necessary resources to protect customers' privacy.
Market Scope | Key Dynamics
Market automation software offers a wide range of solutions to the marketing department for performing their tasks seamlessly. The rise in social media marketing and higher adoption of digital transformation practices has led many enterprises to procure their goals.
The market is influenced strongly by social media platforms, disseminating information among the target audience, reaching out to followers, and creating a brand image. However, data-related concerns and interoperability issues have raised incompatibility issues among software from different vendors. Many organizations face encryption problems during data storage which hampers the overall software market.
But the insights gained regarding customers can strengthen marketing efforts and formulate powerful strategies that will likely boost market demand. Companies planning to enter an online space can benefit from marketing automation software.
Market by Segmentation | Growth Trends
The marketing automation software market is segmented into deployment types, verticals, end-users, and application types. Leading factors driving the market demand within its segments are:
Installation of On-Premise Software
The deployment segment of the market is categorized into on-premise and cloud software. On-premises software held the largest share in the segment. This is due to many computers running on the premises of an organization or person rather than remote facilities such as servers or clouds. The software has accelerated growth for marketing automation software by solving the enterprise-wide problem.
SMEs Customer Relationship Management
Large and small & medium enterprises are key end-users of the market.
The marketing automation software market showcases huge growth owing to small and medium enterprises. SMEs strive for marketing automation to grow their customer relationship management and improve conversion rates. For instance, BenchmarkONE offers sales and marketing software for SMEs to drive their customer relationships into sales through CRM and marketing automation.
IT and Telecom Leveraging Marketing Automation
Telecommunication and information technology, advertising and design, retail, BFSI, manufacturing and distribution, healthcare, and others form the vertical segment of the market.
Telecommunication and information technology have enhanced their performance by leveraging marketing automation and improving customer relationships. Therefore, vendors within the industry partner with marketing automation platforms to improve customer retention.
Ranking Sales and Increased Social Media Presence
Reporting and analytics, mobile application, campaign management, inbound marketing, lead nurturing and lead scoring, social media marketing, e-mail marketing, and others comprise the applications segment. Lead nurturing and social media marketing has gained the leading position in driving the segment's growth.
Regional Leaders
North America holds the leading position at a CAGR of 10.50% and is likely to rise during the estimated years. Owing to the increasing demand for cloud computing, SaaS cloud services, data integration services, and AI technology, businesses within the region are adopting marketing automation as their mainstream for marketing and nurturing customer relationships.
On the other hand, Asia-Pacific is expected to rise steadily at a CAGR of 10.60%, owing to the growth of e-commerce websites, SMEs, IT, and start-ups. Moreover, the rising number of e-commerce players such as IBM and HubSpot Inc is further estimated to boost the regional market.
Wrapping Up
With the rise in artificial intelligence and machine learning, industries have integrated their search with innovative marketing solutions and strategies to outperform in the market. Cognizant Technology Inc, International Business Machines Corporation, Salesforce.com Inc, SAP SE, Hubspot Inc, Adobe Inc, Etrigue Corp are the leading companies contending in the market. Moreover, with the personalization trend becoming more prevalent in the upcoming years, the presence of digital marketing will remain the key driver in the market.
Frequently Ask Questions:
Question 1: What will be the market value in terms of revenue for the marketing automation software?
Answer: The marketing automation software market is estimated to earn a revenue of $8625.39 million by 2028.
Question 2: How has COVID-19 impacted the marketing automation software market?
Answer: During unprecedented times of COVID-19, the demand for products & services in the technology sector has spiked exponentially. The marketing automation software market will show considerable growth in the upcoming years attributed to its capability to deliver effective digital engagement solutions.