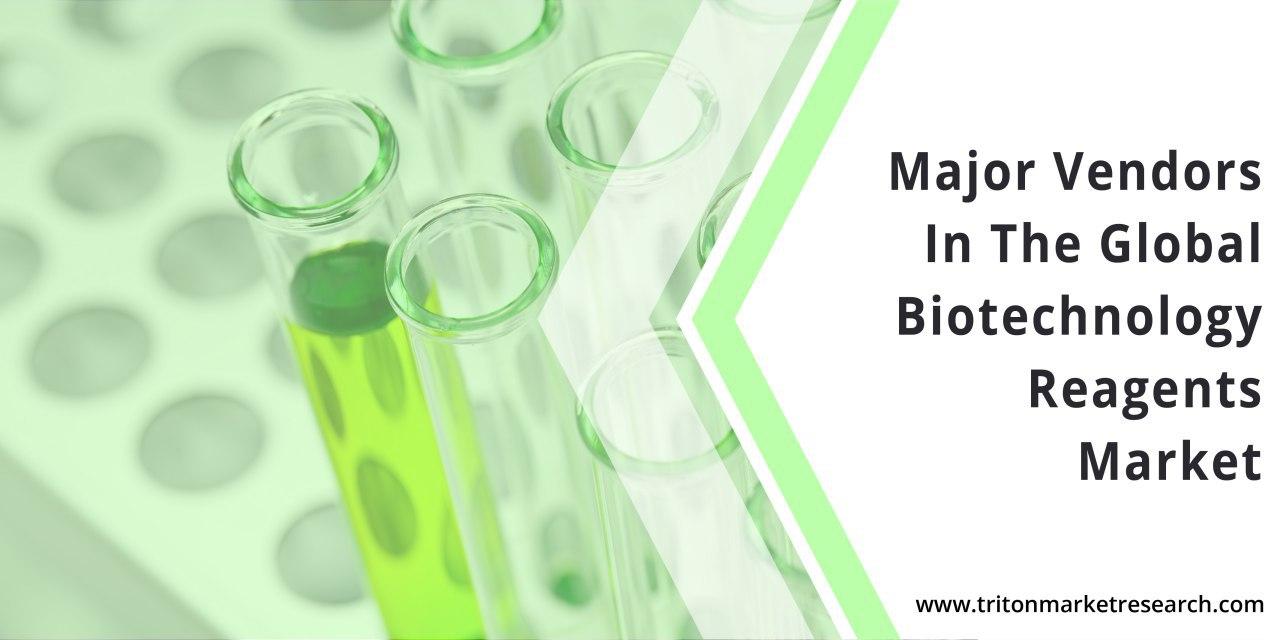 The global biotechnology market is continuously growing and is witnessing a surging growth in the last few years. The number of factors leading to the growth of the global biotechnology reagents market are the steep increase in research labs & research centers, biotech-related technologies, and commercial requirements. Increasing investments in biotech R&D from both the private and public sector is also leading the growth of the biotechnology reagents market.
The global biotechnology reagents market has a considerable number of vendors who have a wide geographical presence with a number of huge production facilities globally. These key players compete on innovation, quality, adaptability and price. Some of these players have superior technological, financial and other assets which help them lead in the race. There are also a considerable number of small local and regional vendors, who hold a significant share in their respective markets.
The top five market vendors for biotechnology reagents are:
Agilent Technologies, Inc.

Agilent Technologies, Inc. offers application solutions for applied chemicals, life sciences, and diagnostic markets worldwide. It is among the leading players in the global biotechnology reagents market and provides many categories of blocking reagents, control reagents, diluents, buffers, and lysing, fixation & permeabilization reagents. The company markets its products through direct sales, e-commerce, resellers, representatives, and distributors. Agilent Technologies was incorporated in the year 1999 and is headquartered in Santa Clara, California.

Becton, Dickinson and Company

Becton, Dickinson and Company (BD) offer biotechnology reagents for clinical, research, and other custom services. It operates in two vertical segments, BD Life Sciences and BD Medical. It offers reagents for applications like clinical research, cell-based assays and immunoassays. BD markets its products through independent distribution channels and sales representatives to life science researchers, healthcare institutions, the pharmaceutical industry, and clinical laboratories. The company was incorporated in 1897 and is headquartered in Franklin Lakes, New Jersey.

Merck & Co.

Merck & Co is a global provider of healthcare solutions and operates in four segments, which include Pharmaceutical, Healthcare Services, Animal Health, and Alliances. Merck offers therapeutic and preventive agents to treat various types of diseases and a wide range of reagents and solvents for functions like DNA & RNA synthesis, instrumental inorganic analysis, and in vitro diagnostics. Merck has collaborations with AstraZeneca PLC, Pfizer Inc., Eisai Co., Ltd., Bayer AG, Premier Inc., IO Biotech, Foundation Medicine, Inc. and Cue Biopharma, Inc. The company was founded in the year 1891 and is headquartered in Kenilworth, New Jersey.

Bio-Rad Laboratories

Bio-Rad Laboratories, Inc. develops, manufactures, and markets products and solutions for the life science research and clinical diagnostic markets in Europe, the Pacific Rim, the United States, and internationally. The company provides reagents for PCR technology, clinical diagnostics, immunodetection and protein assay. Bio-Rad Laboratories provides its product offers through its direct sales force, and through distributors, brokers, agents, and resellers. The company was incorporated in the year 1952 and has its headquarters in Hercules, California.

Thermo Fisher Scientific

Thermo Fisher Scientific provides equipment, analytical instruments, reagents & consumables, software & services for various purposes under the Thermo Scientific, Invitrogen, Applied Biosystems, Unity Lab Services, and Fisher Scientific brands worldwide. The company offers biotech reagents for various applications such as protein gel buffers, immunogenic adjuvant, flow cytometer buffers & reagents, nucleic acid gel buffers, immunoassay buffers & reagents, diagnostic testing and protein purification buffers. The company was incorporated in 1956 and is located in Waltham, Massachusetts.