IoT Updates in Energy & Utility: Regional Efforts back Global Market
Energy, Power & Utilities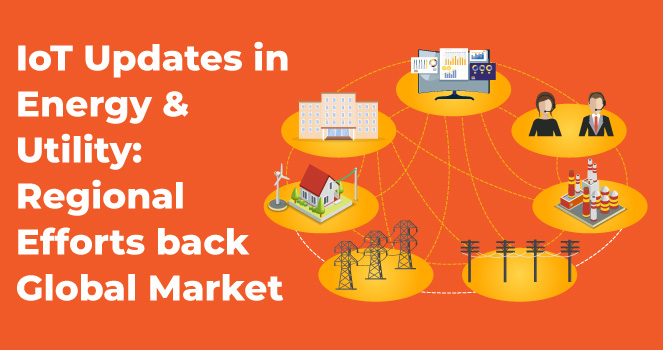 Technological advancements have dramatically reduced components' costs globally, boosting the mass deployment of IoT endpoints across industries. As per experts, the global installed base of internet of things (IoT) devices is expected to reach around 30.9 billion units by 2025.
This has influenced innovation-driven companies to investigate possibilities offered by IoT in energy & utility applications. In addition to IoT's rising economic value, emphasis on a greener environment, and availability of next-generation sensors fuel the applications of IoT in the energy & utility sector.
Based on Triton's report, the global IoT in energy & utility application market is anticipated to grow with a CAGR of 12.78%, in terms of revenue, during the forecast period 2022-2028.
Role of Technology in Regional Expansion
The Asia-Pacific is predicted to witness the fastest growth during the forecasted period, attaining a CAGR of 13.54%. The region's IoT sector is growing exponentially, owing to the convergence of technologies like analytics and cloud and reducing sensor prices. As per a global survey, IoT has become critical to business success across Australia, China, and Japan. In addition, the abundant access to low-cost hardware and software augments IoT deployment in the energy and utility sector to a large extent.
Furthermore, the surging production of energy and technological advancements have led North America to become a leader in the IoT in energy & utility application market. In Canada, the industrial sector accounts for major energy demand at 52%, followed by transportation. This has led prominent companies like Infosys to approve energy as a service solution to help businesses enhance their energy efficiency and meet decarbonization goals.
Top Trends expanding the market globally
High adoption of Microgrids control systems to strengthen grid resilience and mitigate grid disturbances supports the studied market's growth. IoT devices like sensors and remotely managed computers help cope with Microgrids, reducing human intervention. For example, Caterpillar is set to deploy a flexible-fuel CHP system under its demonstration project, which will include a master microgrid controller.

In 2020, renewable energy represented around 29% of the energy consumed globally in electricity generation. With rising energy demand and the increasing capacity of renewable energy plants, remote monitoring solutions have become imperative within the energy sector. Estimates suggest that utility & energy analytics solutions for solar data analysis will significantly improve solar power plant operations via a data-driven approach.

Another major trend in cost-sensitive regions is the reduced prices of IoT components and next-generation sensors. The decline in the cost of sensors, analytics, and grid management drives the IoT in energy & utility application market, especially in the Asia-Pacific. Triton's analysis indicates that the sensors category is estimated to gain the highest share in the hardware segment during the forecast years.

The rising demand for automation tools in energy management is a prominent factor supporting the market's development. For instance, smart meters manage power consumption in real-time, evaluating expenses and sharing data with utility companies, thus increasing market growth prospects.
Competitors Strategies
Since the industry rivalry in the IoT in energy & utility application market is high, existing players are well penetrated and possess successful strategies for introducing new and differentiated products. This factor is likely to increase growth opportunities for key companies, including ABB Ltd, Teradata, and Microsoft Corporation.
In February 2022, Teradata partnered with Microsoft to integrate its vantage data platform with Microsoft's Azure. This collaboration will help companies modernize their data analytics workloads with security and reliability.

Eaton and LG collaborated to enable Eaton to integrate LG energy management solutions, gaining critical data for solar and storage applications.

ABB and Keppel Energy Transition Centre signed an MoU to deepen their collaborative efforts and deploy advanced digitized water management solutions.

In August 2021, Wipro partnered with HERE Technologies to provide location-based services to end-users in energy & utility, manufacturing, and other industries.
Promising Prospects
Given the rise in the smart grid and advanced analytics, technologies for utility companies have become increasingly sophisticated and complex. In this regard, cloud solutions emerge as an ideal solution for energy companies to make real-time decisions from customer data. Moreover, as utilities strive to meet soaring demand to deliver sustainable services, a modern analytics platform helps achieve massive targets quickly. Here, a cloud analytic solution provides greater visibility and reduces operational costs, driving the IoT in energy & utility application market.
FAQs:
Q1) what is the role of IoT in the energy sector?
Internet of things (IoT) primarily adjusts offerings and operations, improving overall efficiency, monetary value, and protection while enabling enterprises to establish new sustainable goals in the energy sector.
Q2) what is the size of the IoT in energy & utility application market?
The IoT in energy & utility application market gained $33.56 billion in 2021 and is expected to reach $76.81 billion by 2028.