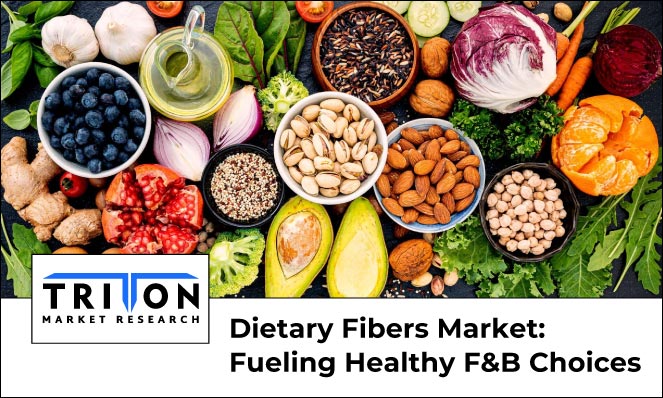 Across the globe, constipation is a prevalent medical disorder intricately linked to insufficient fiber consumption. According to the World Gastroenterology Organization, the prevalence of constipation varies across countries, ranging from 2% to 30% in the general population. Beans, broccoli, berries, avocados, popcorn, whole grains, apples, dried fruits, nuts, and so forth are excellent sources of dietary fiber and help GI disorders. Thus, the burgeoning awareness surrounding nutrition and health among individuals and the inclination towards nutraceutical products is pushing the dietary fibers market.
Globally, the dietary fibers market is expected to reach $13421.33 million by 2030, with a CAGR of 8.77% from 2023 to 2030.
Dietary fibers possess natural laxative properties that stimulate and promote the frequency of bowel movements. By regulating the digestive system's rhythmic functioning and preventing stool stagnation in the colon, these fibers actively alleviate the discomfort of constipation. Including fibers in a diet can effectively support regular bowel movements, ensuring optimal digestive health.
A Spectrum of Product Offerings: Soluble and Insoluble Dietary Fibers
Regarding product categorization, the market is segmented into two distinct subcategories, soluble dietary fibers and insoluble dietary fibers. Soluble fibers in food sources such as apples, bananas, barley, oats, and beans offer exceptional nutritional value. On the other hand, insoluble fibers derived from whole grains, various vegetables, wheat bran, and legumes provide an impeccable foundation for dietary enrichment. Premium food skillfully incorporates soluble and insoluble fibers, achieving a harmonious fusion of nutritional excellence.
In 2022, soluble dietary fibers emerged as the dominant segment, with a remarkable revenue of $3764.84 million. Exceptional properties and wide-ranging applications are the top drivers of the segment.
Soluble dietary fibers dissolve in water, forming a gel-like substance that offers various functional benefits. They find extensive applications across the food and beverage industry, allowing manufacturers to enhance the nutritional profile of their products while improving texture, stability, and overall quality.
Few Notable Examples:
Kerry Group PLC offers Emulgold Fibre, a soluble dietary fiber renowned for its digestibility. This product enhances texture and enhances flavor, particularly in reduced sugar systems.
Tate & Lyle produces STA-LITE Polydextrose. This easily utilized soluble fiber imparts minimal color or off-flavor, making it an ideal choice for products aiming to reduce calories and sugar while maintaining desirable texture and taste.
Addressing Nutritional Deficiencies
Developing countries face significant challenges in public health and nutrition, characterized by insufficient access to balanced diets and nutrient deficiencies that impact millions of individuals. However, the food and beverage industry has undergone a transformative shift driven by increasing awareness of dietary fibers pivotal role in maintaining optimal health.
For instance, the Indian Council of Medical Research emphasizes a minimum daily consumption of 40 grams of dietary fiber. Consequently, the country's population has enthusiastically embraced incorporating fiber-enriched products into their diets, acknowledging their potential to enhance digestive abilities and overall well-being.
Tata NQ's product FOSSENCE® is a versatile prebiotic dietary fiber supplement. This product, derived from fermented cane sugar, is 100% water soluble. Through clinical studies, the company has demonstrated the positive impact of FOSSENCE® on the gut microbiome, particularly in enhancing the relative abundance of lactobacillus and bifidobacteria. Also, a healthy microbiota, supported by FOSSENCE®, can improve immunity, nutrient absorption, lipid transport, and overall digestive and bowel health.
As per our experts, the Asia-Pacific dietary fibers market is projected to exhibit a promising growth rate, with a projected CAGR of 8.69% from 2032 to 2030.
Navigating the Future: A Fiber-Rich World
As the market expands, businesses must stay informed about evolving regulations and compliance requirements. Additionally, consumer education about the health benefits of dietary fibers and their role in a balanced diet is paramount. Food manufacturers are increasingly fortifying their products with dietary fibers. This approach allows them to leverage various fiber sources, including locally available options like carrots, chicory root, asparagus, Jerusalem artichoke, leeks, and whole grains. By incorporating these fibers, they can create food products with elevated fiber content, catering to the growing demand for high-fiber options. This trend extends to the functional food category, where fiber-based supplements are also gaining traction.
Examples of consumer goods manufacturers fortifying their dietary fibers products are:
KIND offers a variety of cereal bars with dietary fibers. They use ingredients like whole grains, oats, and chicory root fiber to enhance the fiber content and nutritional value of their bars.
Nature Valley incorporates fiber-rich ingredients such as whole-grain oats, wheat bran, and inulin to provide a satisfying and nutritious snack.
Fiber One uses a combination of soluble and insoluble fibers, such as chicory root extract and wheat bran, to boost the fiber content of their bars and promote digestive health.


FAQs
Q1) Which region is expected to be the fastest-growing market?
North America is expected to be the fastest-growing regional market.
Q2) What are the key segments considered in the market report?
Product, Raw Material, and Application.