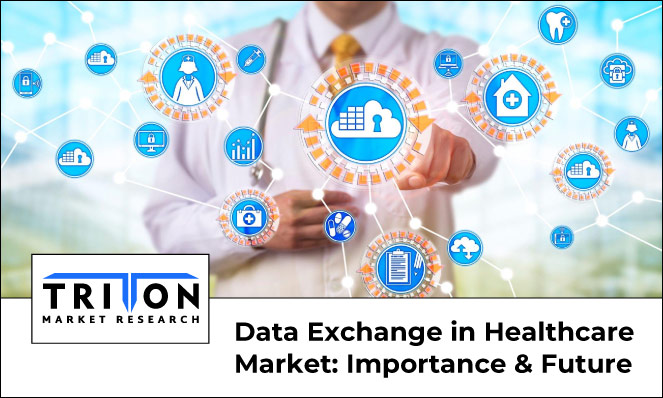 The global healthcare industry is focusing on improving efficiency and service quality delivered to patients. And the integration of technology in this field has been instrumental in inching closer towards these goals. This also includes healthcare data exchange, which helps medical professionals and organizations to seamlessly share vital patient information electronically, with better security, quality, speed, and cost. According to our experts, the global data exchange in healthcare market is expected to advance at a CAGR of 24.90% in the forecast period from 2022 to 2028.
The growing patient-centered approach, rising use of electronic health records (EHRs), and an increasing focus on cutting down healthcare costs are some key factors driving this market.
Role of Telemedicine – Driver to the Market
Telemedicine provides access to healthcare services, supporting care providers and patients across distances. It is estimated that the COVID-19 pandemic sparked ten years' worth of innovations in telemedicine in less than a year, with demand from areas like psychiatry reaching an all-time high.
The use of healthcare data exchange systems for this purpose ensures that patient data is shared securely among end-users, such as pharmacies, healthcare providers, and healthcare payers. Also, teleconsultations often require patients to share their data from different EHRs, and thus, a consolidated record is essential to improve process efficiency and receive appropriate care.
Why is Data Exchange In Healthcare Crucial?
Data sharing in healthcare is crucial because it has numerous benefits, such as:
It equips care providers with clinical tools to help make informed decisions

Offers better reporting and monitoring of public health data

Improves patient safety by minimizing the likelihood of medical errors

Offers enhanced efficiency due to the elimination of unnecessary paperwork and handling

Reduces hospital visits required, and thereby, the associated costs
Also, it is important to note that the willingness of several healthcare organizations to share information across international borders was one of the key supporting factors in the fight against the pandemic. For instance, Dawex Systems, a France-based international online data exchange provider, launched the COVID-19 Data Exchange platform. It provided access to all stakeholders to share any beneficial information with the community to help tackle COVID-19 and its consequences with a globally connected information exchange system.
With developments such as these, Europe has emerged as a key region for innovation in this field. In fact, the Europe data exchange in healthcare market is expected to progress with the fastest growth rate globally, over the forecasted period. The growth of this market is aided by supportive government policies, the availability of highly developed healthcare systems, the presence of a skilled workforce, and major investments from market players.
Data-driven Social Partnerships – The Next Big Thing
Data is growing exponentially, and accessing and aggregating it from different sources, especially those outside the public domain, can present several challenges. However, this enables the formation of new partnerships among public, private, and governmental entities. These are termed data-driven social partnerships, and are aimed at leveraging data for positive societal impact and public good.
Care providing organizations and professionals realize the importance of social factors in determining patients' health outcomes, and are thus exploring avenues to contribute to addressing societal issues by means of health information exchange.
For instance, the Community of Practice is a health information exchange platform, developed as a result of a collaborative effort between Michigan-based healthcare and social organizations. It is focused on ensuring the interoperability of social care data across platforms, and is rooted in improving the health and well-being of all individuals and communities. The emergence of such initiatives is expected to lead the data exchange in healthcare market on a pathway towards growth.


FAQs:
Q 1) Which region leads the global market for data exchange in healthcare?
North America leads the global market, and accounted for the highest revenue share in 2021.
Q 2) Which are the key segments covered in the market report?
The key segments in the data exchange in healthcare market include set up, type, deployment, implementation model, application, and end-user.