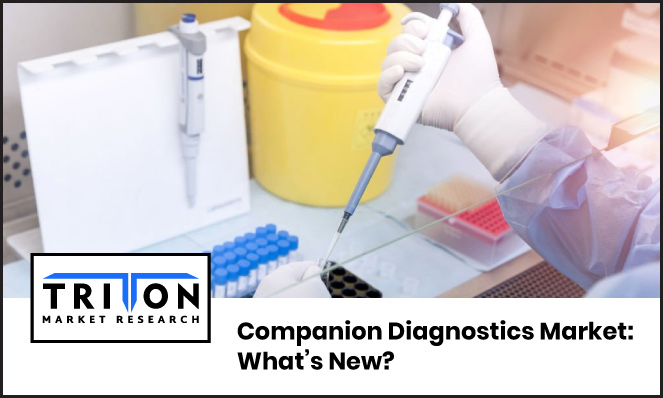 With rising health consciousness and expenditure, precision medicine has emerged as a major solution to treating chronic conditions. Estimates indicate that the personalized medicine segment is expected to account for around 40% by the end of 2022, with oncology being a major therapeutic area. As a result, this growth is expected to support the expansion of the companion diagnostics market as CDx tests identify the right drug for a specific patient pool.
Triton Market Research's report infers that the global companion diagnostics market is expected to progress at a CAGR of 12.84% during the forecast period 2022-2028.
Presently, medical treatments are typically designed using uniform patterns, with patients with the same disease undergoing matching treatments. This trial-and-error style often becomes time-consuming and ineffective. Hence, the development of precision medicine with the help of CDx widens the studied market's scope.
CDx Development: Technological Advancements Backs Regional Growth
In addition to a growing focus on precision medicine, the expansion of the companion diagnostics market is also fueled by technological advancements. Top trends that support the market's growth globally, especially in the Asia-Pacific, include:
Predictive Biomarkers have proven vital in calculating responses to certain therapeutic interventions. For instance, the Oncotype Dx and MammaPrint tests and KRAS employ predictive biomarkers, providing the most effective treatment to breast and colorectal cancer patients. Estimates suggest that the oncology category secures the majority of shares in the market in terms of indication. As a result, biomarkers have gained significant prominence among oncologists across nations, including India. For instance, Tata Memorial Hospital, NIMHANS, and AIIMS are striving to identify new genes and biomarkers, ultimately generating opportunities for the Asia-Pacific companion diagnostics market.
Polymerase Chain Reaction (PCR) leads the mechanism segment in terms of revenue share in 2022. It is projected to evolve at a CAGR of 13.13% during the forecasted period. Factors such as cost-efficient, faster turnaround time, and ease of application have supported its dominance in neurology and oncology applications. Besides this, PCR-based CDx has witnessed substantial growth due to approvals such as BRACAnalysis CDx by Myriad Genetics. Such developments are expected to influence market players to expand their PCR capabilities, augmenting the companion diagnostics market's development.
Next Generation Sequencing is another major technology fueling the CDx market development. Since NGS permits rapid sequencing, it has supported major advances in determining the molecular basis of various chronic conditions. NGS is expected to become the fastest-growing segment in the mechanism category. In this regard, PCR techniques are expected to support the success of NGS technology in the upcoming years. To illustrate, NGS diagnosis and PCR techniques offer high-precision care with less turnaround time. The rising competency in genome sequencing has also generated substantial opportunities for vendors like Shuwen Biotech and Simcere Diagnostics in the Chinese companion diagnostics market.
Competitive Landscape: Strategic Highlights & Latest CDx Approvals
The inclusion of analytics and big data has helped identify various biomarker-based illness indications regularly. This has triggered businesses to enter the market through innovations. Moreover, since it's easy to shift from one product to another, the competition among existing players has elevated over the years. Such developments have thus led to the advent of new strategies to launch and gain approvals for their CDx devices.
In August 2022, Roche Diagnostics gained approval from FDA for VENTANA MMR RxDx Panel, the first immunohistochemistry CDx test. Based on cancer biomarkers, it helps detect solid tumor patients.
Foundation Medicine's FoundationOne CDx and Liquid CDx were authorized with various companion diagnostics claims by the FDA in June 2022.
In May 2022, BioMerieux announced approval from FDA for its BIOFIRE Joint Infection Panel. The panel tests for 31 pathogens implicated in acute joint infections and contains 8 AMR genes to optimize therapy.
Evotec SE and BioMeriux, in July 2022, declared their partnership to create the next generation of antimicrobial and actionable diagnostics to prevent antimicrobial resistance.
In July 2021, Illumina expanded its oncology partnerships with Bristol Myer Squibb, Kura Oncology, Myriad Genetics, and Merck. This joint venture aims to develop tools for precision oncology.
Growth Prospects: CDx for Targeted Cancer Medication
Earlier, the commercial success of Herceptin and Gleevec revolutionized companion diagnostics globally. However, the increased prevalence of cancer cases has led to a dramatic shift in the drug development process, from uniform to precision medicine approach, increasing the need for new CDx solutions. Hence, the demand for predictive biomarkers for targeted cancer therapeutics is expected to take center stage, thereby creating opportunities for the companion diagnostics market.
FAQ:
Q1) What is the size of the companion diagnostics market?
The companion diagnostics market obtained $5314.48 million and is expected to gain revenue worth $12740.68 million by 2028.
Q2) What are the key end-users of the companion diagnostics market?
The key end-users include pharmaceutical and biopharmaceutical companies, reference laboratories, and others.