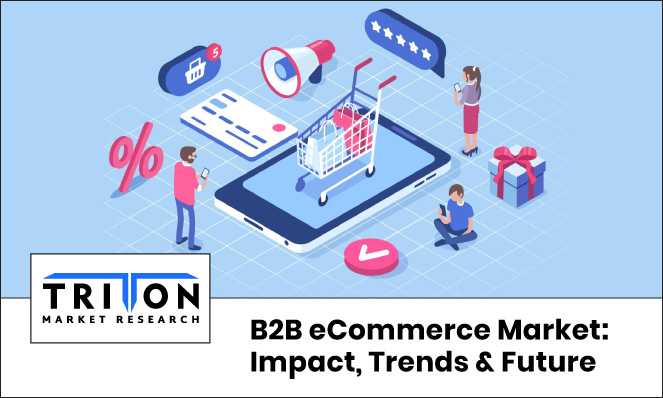 In an evolving industry landscape, businesses purchase products and services online more than before. This holds true especially for retail and wholesale sectors wherein buyers generate purchase orders via digital channels, such as electronic digital interchange software. The ability to offer businesses more customized and flexible services has propelled the global B2B eCommerce market on a growth path at 21.22% between 2022 and 2028.
Geographically, the Asia-Pacific B2B eCommerce market revealed the highest potential by backing around 80% of the global share. Estimates indicate that Chinese business-to-business eCommerce transactions underwent a fourfold increase between 2012 and 2020. This has compelled contenders to adopt and embrace omnichannel sales like videoconferencing and digital portals. Around 83% of B2B leaders believe these channels to be highly effective in procuring new business, which further adds to the studied market's growth.
Impact of B2B Online Platforms on Industry Operations
One of the key trends influencing the studied market is vertical marketplace growth. It offers multiple products with specialized value-added services. Thus, several B2B companies are leveraging reputed platforms like Amazon and Alibaba to attract customers and increase sales conversions.
Markets benefitting from these platforms are:
1. Food & Beverage:
With a looming concern about the perishable nature of most products, business-to-business eCommerce presents a huge opportunity to F&B suppliers in fast-tracking operations. For instance, A1 Cuisines Pvt Ltd launched its first B2B marketplace, BeverageCart, to address last-mile delivery for hotels, restaurants, and caterers. Another company, MagaLoop, obtained around €9 million to launch its ordering platform connecting shops with suppliers. In North America, the US online sales accounted for over 67% of manufacturing shipments, with categories like food & beverage outpacing others in 2021.

Our analysis denotes that the food and beverage market is anticipated to project the fastest growth under the product type segment.

2. Consumer Electronics:

The consumer electronics category secures the highest shares in the product type segment. Numerous wholesalers are opting for eCommerce platforms, including eBay and Alibaba. This shift is backed by the rising total shipment of wearable devices, reaching around 533.6 million in 2021. In the Asia-Pacific, the number of device users is anticipated to reach around 1731.8 million by 2025, with China producing the most revenue.

Consumer electronics has also emerged as a vital product segment for Alibaba, as it generates significant revenue in more than 190 nations. North America accounts for around 30% of the buyers for the company, creating numerous opportunities for suppliers in the market.

3. Beauty and Personal Care:

The category's growth is fueled by rising websites and the growth of the cosmetics industry. The cosmetics industry has witnessed robust progress in the past years, from 3.8% in 2013 to 8% in 2021. This jump explains the increasing player focus on launching new B2B portals. For instance, Landing International introduced an online marketplace to connect retailers with new cosmetic suppliers.

Besides, the rising focus on K-beauty products has encouraged South Korea-based company Bonne to introduce a website that lets brands view their packaging library to develop their products. Such developments open new avenues for the business-to-business eCommerce market.
Social Commerce: Growing Age of Convenience
Purchasing and selling products in the new media age are no longer restricted to websites. Businesses can sell their products on social media channels that match their niche without compromising the customer experience. This eCommerce model shifts social media beyond its traditional role by stimulating users to finish purchases without backing from their favored applications, reducing the payment time.
As per sources, social media advertising spending is expected to reach around $226 billion by the end of 2022. And the total sales via social media channels are anticipated to reach around $2.9 trillion by 2026. Such high revenue growth through social commerce will make e-wallets the preferred payment method. Since e-wallets offer safety with encryption and device authentication, their adoption in the growing social commerce space boosts the studied market.
What's Next?
With companies like L&T and YoKart launching new B2B eCommerce marketplaces and software tools, the need for innovative products has gained prominence. In this regard, the integration of AR and VR has become an integral part of the long-term eCommerce strategy for many players. Estimates indicate approximately 25% of enterprises are expected to launch their AR application by the end of 2022. Hence, the industry's emphasis on developing innovative immersive customer experiences is expected to contribute majorly to the global B2B eCommerce market.
FAQs:
Q1) How big is the B2B eCommerce market?
In 2021, the B2B eCommerce market gained $42.54 billion and is expected to garner revenue worth $170.34 billion by 2028.
Q2) Which are the major product types in the B2B eCommerce market?
Clothing, beauty and personal care, consumer electronics, and F&B are major product types in the B2B eCommerce market.